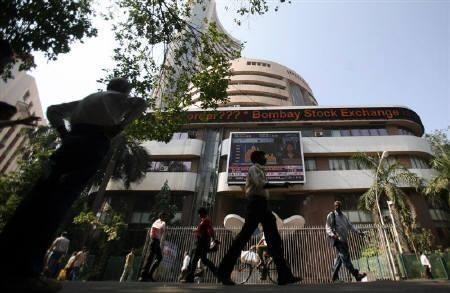 Indian stock markets advanced on Tuesday after the Reserve Bank of India (RBI) cut its key interest rate for the first time in nine months to boost economic growth.
The 30-share BSE Sensex gained 0.08 percent or 15.93 points to 20,119.28, and the 50-share NSE Nifty rose 0.26 percent or 15.55 points to 6,090.35.
Markets opened on a flat note and turned lower as investors opted for caution before the RBI's policy review meeting on Tuesday. Markets turned positive after the RBI decided to reduce the repo rate by 25 basis points to 7.75 percent in a move to spur growth in Asia's second largest emerging economy. The central bank had last cut its repo rate by 50 basis points in April. It also lowered its Cash Reserve Ratio (CRR) to 4.0 percent from 4.25 percent.
"RBI has not abandoned its cautious stance, stressing on the 'calibrated and limited' nature of rate support (from) hereon. The scale of rate cuts is closely tied to the government's sustained efforts to correct the twin imbalances and moderating inflation trajectory," Radhika Rao, economist, Forecast Pte in Singapore, told Reuters.
Among the sectoral indices, banking and metal sector shares gained 0.72 percent and 0.56 percent, respectively, while oil & gas and consumer durables fell 0.81 percent and 0.64 percent, respectively.
In the banking sector, Axis Bank climbed 4.52 percent, ICICI Bank advanced 2.07 percent and Federal Bank rose 1.54 percent.
The overall market breadth was negative with 1232 advanced against 1355 declines. The BSE's Midcap Index gained 0.10 percent to 6,982.55 and Smallcap Index declined 0.01 percent to 7,161.56. CNX midcap Index declined 0.03 percent and CNX IT fell 0.23 percent.
Meanwhile, Asian markets were trading mixed as market participants opted for caution on some positive US corporate earnings and economic indicators ahead of the Federal Reserve's two-day meet.