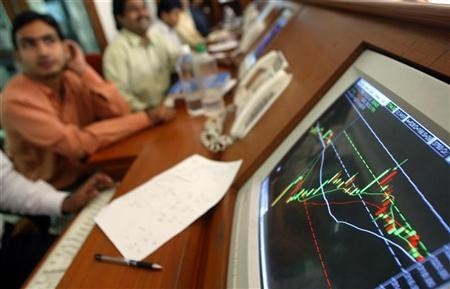 Indian stock markets ended sharply lower on Tuesday with the Nifty falling below the 5600 level, as sentiment was weighed down by weak rupee which has hit a new all-time low against the US dollar.
The benchmark BSE Sensex tumbled 2.30 percent, or 440.34 points, to 18,741.92. The 50 share NSE Nifty slumped 2.48 percent, or 140.90 points, to 5,544.50.
Indian markets opened on a weak note on the back of negative cues from Asian markets as stronger-than-expected US services data raised fears that the Federal Reserve would start scaling back its asset buying program as soon as in September.
The Indian Rupee plunged to a record low of 61.60 by late-afternoon trade on Tuesday, on concerns that the government will struggle to fund its record high current account gap if global liquidity tightens. The rupee had hit its earlier all-time low of 61.21 on July 2008.
"I expect direct interventions and further measures which will only work to slow the trend, because reversal requires fundamental reforms that are unlikely to happen. I expect further depreciation in the rupee in the short run," Dariusz Kowalczyk, senior economist and strategist Credit Agricole in Hong Kong, told Reuters.
All the 13 BSE sectoral indices ended with losses. Consumer durables sector tumbled 5.49 percent and realty sector slumped 4.49 percent, while baking sector plunged 4.01 percent.
Banking sector shares experienced selling pressure on fears that the continued weakness in the domestic currency may prompt the central bank to hike long term interest rates to attract foreign capital.
Indusind Bank tumbled 7.03 percent and Yes Bank plunged 9.50 percent, while Union Bank slipped 6.15 percent.
The overall market breadth is negative with 646 advances against 1611 declines on the BSE.
Asian markets were mixed on Tuesday. Hong Kong's Hang Seng declined 1.34 percent and South Korea's KOSPI fell 0.50 percent, while China's Shanghai Composite gained 0.49 percent.
Japan's Nikkei surged 1 percent on news that Japanese public-employee pension fund might buy more stocks, while the yen's retreat against the US dollar also supported exporter companies shares in Tokyo.