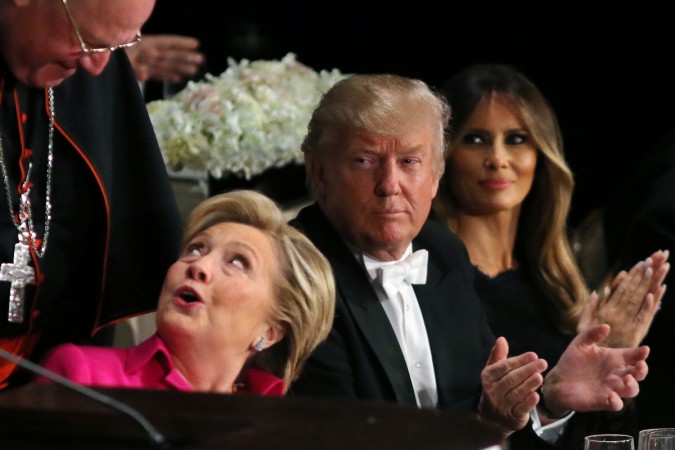 The BSE Sensex closed 184 points higher at 27,459 while the NSE Nifty gained 63 points to end at 8,497. Top Sensex gainers were Lupin, State Bank of India, ICICI Bank and ITC.
"Indian markets rose in line with positive global markets, in a clear sign that financial market's near term direction is closely intertwined with US electoral developments," Anand James, Chief Market Strategist, Geojit BNP Paribas Financial Services said in a note.
Indian benchmark stock market indices Sensex and Nifty opened on a bullish note on Monday tracking Asian equities that gained in response to the FBI deciding not to pursue probe against Democractic Party nominee Hillary Clinton over her controversial e-mails.
The BSE Sensex was up almost 200 points at 27,469, while the NSE Nifty was trading 63 points higher at 8,497 at around 9.45 a.m.
Top Sensex gainers were Lupin, ITC, State Bank of India and Tata Steel. PNB Housing Finance shares are scheduled to be listed on the stock exchanges and investors would be anxious where it debuts with a premium to the issue price.
The Federal Bureau of Investigation (FBI) told the US Senate and House committee members that no further probe into Clinton's e-mails were warranted.
"Based on our review, we have not changed our conclusions that we expressed in July with respect to Secretary Clinton. I am very grateful to the professionals at the FBI for doing an extraordinary amount of high-quality work in a short-period of time," FBI director James Comey wrote in his communication to the members, reports politico.com.
The website said that the revelation that came two days before election day is likely to dampen rival Donald Trump's chances who seemed to have gained in opinion polls "after Comey's disclosure late last month about the newly-discovered set of email messages."
The Indian rupee opened at 66.74 to the US dollar.
Among other significant developments, British Prime Minister Theresa May is in India on her maiden visit to a foreign country outside the European Union. Talks on boosting bilateral trade, investments and defence cooperation are on the cards. She will also inaugurate the India-UK Technology Summit in New Delhi.