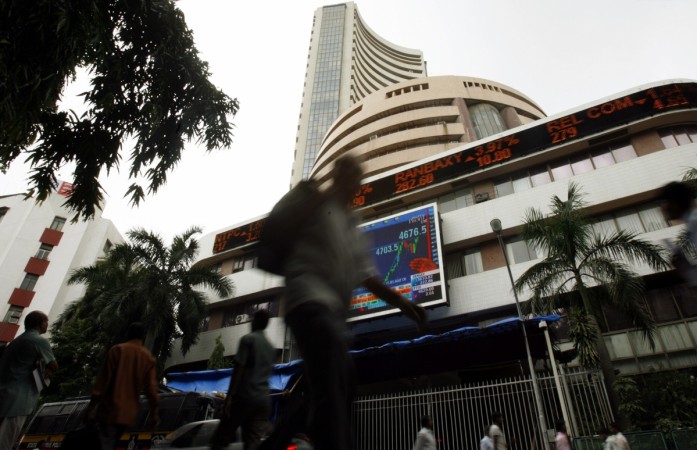 The Bhartiya Janata Party (BJP) in Uttar Pradesh assembly elections 2017 has set the stage for a bullish opening on Tuesday. The BJP was expected to win, as was evident from the exit poll results, but many of them had predicted the party to bag around 180-190 seats. The actual results have surpassed all projections, with the Amit Shah-Narendra Modi combine doing an encore of 2014. The party has won 317 seats so far and leading in six, stunning all, be they analysts, detractors or rivals.
The mood could lift the BSE Sensex in a big way on Tuesday and take the benchmark index closer to its all-time high of 30,024 hit on March 4, 2015. It had closed at 28,946 on Friday.
The stock markets will remain closed on Monday on account of Holi.
Trading on Tuesday will also factor in the 2.7 percent growth in factory output (IIP) for January 2017, as against a contraction of 0.40 percent in December 2016, indicating that the impact of demonetisation is fading away.
Sentiments will also be buoyed by the overwhelming response to the Rs 1,870-crore IPO of Avenue Supermarts, the owner of retail chain D-Mart. The public issue ended with an oversubscription of 104 times.
It is difficult to hazard a guess as to what all stocks will spurt. Among those that can be expected to rally are state-owned enterprises, in addition to the feel-good factor rubbing on others, across sectors.
Public sector stocks would be the ones to watch out for, given that the markets would be hoping for a fillip to the disinvestment programme post the electoral success for Modi. The party would see the verdict as an endorsement of the note ban decision and feel emboldened to initiate more economic reforms in the second half of its five-year tenure at the Centre.
Stocks that could spurt in the public sector space would be State Bank of India, NTPC, Power Grid Corporation, Power Finance Corporation, HPCL, IOCL, BPCL, ONGC, GAIL, Dredging Corporation, BEL, BHEL, BEML, NMDC, Canara Bank, Bank of Baroda, IFCI, Engineers and Coal India.
The Modi government has already said that it wants to get state-owned general insurers and railway ministry-owned enterprises listed on stock exchanges next fiscal. Hindustan Aeronautics Ltd. (HAL) could also go public in 2017-18.
The three rail PSUs are IRCON, IRFC and IRCTC, while the insurance companies are New India Assurance Company Ltd., United India Insurance Company Ltd., Oriental Insurance Company Ltd., National Insurance Company Ltd. and General Insurance Corporation of India.
"The shareholding of these Public Sector General Insurance Companies (PSGICs) will be divested from 100 percent to 75 percent in one or more tranches over a period of time," the government had said on January 18 this year.
The disinvestment target for 2017-18 is Rs 72,500 crore.
In other news, the government released details of expenditure under corporate social responsibility (CSR). Enterprises, both public and private, spent Rs 9,822 crore in 2015-16 as against Rs 8,803 crore in the previous financial year.