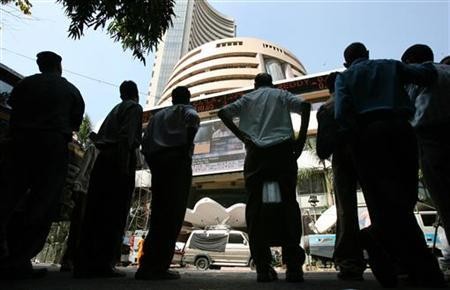 Indian stock markets ended lower for a straight seventh session on Thursday, led by declines from realty, PSU and oil and gas sector shares.
The benchmark BSE Sensex declined 0.15 percent, or 28.51 points, to 19,317.19. The 50 share NSE Nifty fell 0.25 percent, or 14.15 points, to 5,727.85.
Markets opened on a high note, tracking positive cues from Asian peers. Markets later turned volatile and ended with losses despite positive trend in global markets. All the 13 BSE sectoral indices except banking sector ended on a negative note.
Realty sector tumbled 3.98 percent and PSU slumped fell 2.76 percent, while oil and gas sector gained 2.60 percent and banking sector rose 1.20 percent.
Meanwhile, Goldman Sachs on Thursday downgraded Indian markets to 'underweight' rating, citing growth recovery and current account deficit concerns. This comes two days after the Reserve Bank of India (RBI) cut India's growth forecast for the fiscal year to 5.5 percent from its prior estimate of 5.7 percent provided in May.
In the Midcap space, IRB Infra tumbled 25.52 percent and MCX plunged 19.99 percent, while Punj Lloyd slipped 9.27 percent.
The overall market breadth is negative with 1432 declines against 784 advanced on the BSE.
Asian markets surged on Thursday as sentiment was buoyed following encouraging economic reports from the US and China. Japan's benchmark Nikkei 225 surged 2.47 percent and Hong Kong's Hang Seng gained 0.94 percent, while China's Shanghai Composite advanced 1.77 percent and South Korea's KOSPI rose 0.35 percent
.
Data released by the China Federation of Logistics and Purchasing showed that Chinese manufacturing activity unexpectedly strengthened last month. China's official Purchasing Managers' Index (PMI) rose to 50.3 in July from 50.1 in June, while analysts had expected a slowdown in activity to 49.9 for the month.
Meanwhile, official data on Wednesday showed that the US economy grew at an annualized 1.7 percent in the April-June quarter, down from 1.8 percent growth registered in the first three months of the year but topped analysts' estimation for a 1 percent gain.