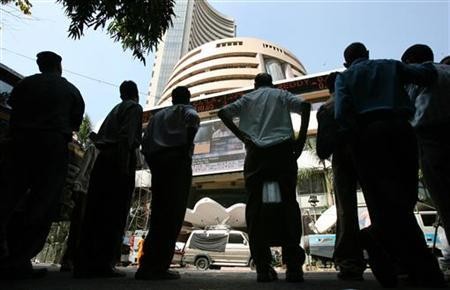 Indian stock markets are expected to decline on Tuesday amid weakness in global markets.
BSE Sensex and NSE Nifty were slightly recovered on Monday, helped by gains in metal and banking sector shares, after losing more than 6 percent in the last two weeks. The benchmark BSE Sensex gained 0.10 percent, or 18.24 points, to 19,182.26. The 50 share NSE Nifty rose 0.13 percent, or 7.50 points, to 5,685.40.
Asian markets declined in early trade as stronger-than-expected US services data raised fears that the Federal Reserve would start scaling back its asset buying program as soon as in September.
Japan's benchmark Nikkei 225 declined 1.20 percent and China's Shanghai Composite fell 0.31 percent, while Hong Kong's Hang Seng plunged 1.64 percent and South Korea's KOSPI slipped 0.79 percent.
"The ramp-up in the U.S. economy is not only gaining momentum, but is accelerating. This is increasing the hawkish view of the Fed. This is why the September taper talk will continue. The blueprint for monetary stimulus tapering will be laid out in September with the first wind-back in October," Evan Lucas, a Melbourne-based market strategist at IG Markets Ltd., told Bloomberg by e-mail.
US stock markets ended mixed on Monday, with the Dow and the S&P 500 retreating from their record closing highs last week. The Dow Jones Industrial Average declined 0.30 percent, the S&P 500 Index was down 0.15 percent and the Nasdaq Composite Index rose 0.09 percent.
The Institute for Supply Management (ISM) said on Monday that US services sector rebounded from a three-year low in July, helped by a jump in business activity and new orders. ISM's non-manufacturing purchasing managers Index (PMI) rose to 56 in July from 52.2 in June and also topped analysts' expectation of a 53.1 reading.