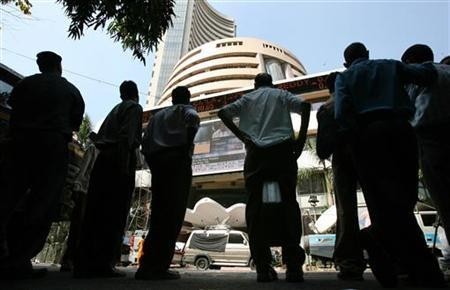 Indian stock markets are expected to extend its losing streak for a fourth straight session on Wednesday, ahead of the release of minutes from the Federal Open Market Committee's (FOMC) July policy meeting.
The BSE Sensex and NSE Nifty ended with losses for the third straight session on Tuesday as sentiment was continued to weigh down by weak rupee on back of India's deteriorating economic conditions and Fed tapering fears. Both major benchmark indices lost more than 6 percent in the last three sessions.
The FOMC is scheduled to publish its July meeting minutes on Wednesday at 2.00 pm EDT. According to economists surveyed by Bloomberg during August 9-13, 65 percent predicted that the Fed would taper stimulus at their September meeting.
Asian markets declined on Wednesday as investors opted for caution before Fed minutes. China's Shanghai Composite declined 0.15 percent and Hong Kong's Hang Seng fell 0.99 percent, while Japan's benchmark Nikkei 225 slipped 0.56 percent and South Korea's KOSPI fell 0.86 percent.
"The Fed is talking about tapering because the economy is getting better. We're seeing some signs of life come out of the U.S. and you can't lose sight of the fact that's positive and encouraging. In the short-term markets will continue to grapple with this unknown scenario," ,Mark Lister, the Wellington-based head of private wealth research at Craigs Investment Partners Ltd., told Bloomberg by phone.
US stock markets advanced for the first time in five days as better-than-expected earnings from Best Buy and TJX Cos offered support to retailers and consumer discretionary stocks. The Dow Jones Industrial Average declined 0.05 percent, the S&P 500 Index was up 0.38 percent and the Nasdaq Composite Index gained 0.68 percent.