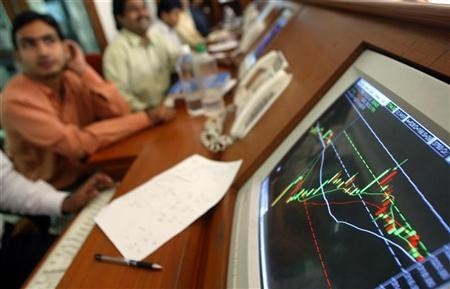 Indian stock markets are expected to decline for the third straight session on Tuesday as the rupee hit another record closing low against the dollar on Monday.
The BSE Sensex and NSE Nifty ended lower for the second consecutive session on Monday because a strong dollar and continuing foreign fund outflows from the markets sent the Indian domestic currency to all time low. The rupee plunged 165 paise to a new record low of 63.30 against dollar in intraday trade at the interbank foreign exchange market on Monday before closing the day at a record closing low of 63.13.
"It's a doom and gloom scenario out there. The currency is weakening and there's panic at the moment. Whatever the government or the RBI says is not creating any calm or stability. The rupee needs to settle down and only then we will see a resumption of funds on a sustainable basis," Sajiv Dhawan, managing director of brokerage JV Capital Services, told Bloomberg TV India Monday.
Foreign investors sold around $11.6 billion of Indian debt and equities in the last three months due to fears over economic growth, as Asia's third largest economy grew at its slowest pace in a decade during the 2012-13 financial year.
Meanwhile, Asian markets mostly declined on Tuesday. Japan's benchmark Nikkei 225 declined 0.56 percent and China's Shanghai Composite fell 0.07 percent, while Hong Kong's Hang Seng gained 0.07 percent and South Korea's KOSPI rose 0.24 percent.
US stock markets ended lower for a fourth consecutive session on Monday as investor opted for caution ahead of the release of the minutes from the July Fed meeting due on Wednesday.
"The market is just sitting on its hands right now until Wednesday with the Fed," Terry Morris, senior equity manager for National Penn Investors Trust Company in Reading, Pennsylvania, told Reuters.
The Dow Jones Industrial Average declined 0.47 percent, the S&P 500 Index was down 0.59 percent and the Nasdaq Composite Index fell 0.38 percent.