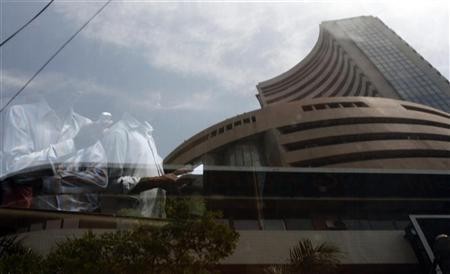 Indian stock markets are expected to decline on Friday after gaining in the last four sessions, as a sell-off in global markets is likely to weigh on the investor sentiment.
Markets had gained in four out of last five sessions. BSE Sensex had gained nearly 4 percent and the NSE Nifty rose more than 3.8 percent in the last four sessions. On Wednesday, the BSE Sensex rose 0.72 percent to end at 19,367.59 and the 50-share NSE Nifty gained 0.75 percent to close above its psychological 5,700 level.
Asian markets declined on Friday, tracking negative cues from Wall Street overnight as sentiment was weighed down by some weak earnings and concerns over Fed tapering. Japan's benchmark Nikkei 225 plunged 0.90 percent and China's Shanghai Composite fell 0.28 percent, while Hong Kong's Hang Seng declined 0.59 percent and South Korea's KOSPI slipped 0.37 percent.
US stock markets plunged on Thursday as upbeat jobless claims data raised concerns that the Federal Reserve would soon start to reduce its massive asset buying program, while weak earnings and outlook from Wal-Mart and Cisco also added to the down trend.
The Dow Jones Industrial Average declined 1.47 percent, the S&P 500 Index was down 1.43 percent and the Nasdaq Composite Index plunged 1.72 percent.
"The U.S. markets will alter global trading over the next 30 days — taper talk is only going to get louder and louder, to a point of deafening. This will lead risk markets such as equity indices to start throwing the toys out of the monetary-stabilizing pram in the coming weeks," IG Markets strategist Evan Lucas, told Market Watch.
Data released by the US Department of Labor on Thursday showed that initial jobless claims report, which measures the number of individuals who filed for unemployment insurance for the first time last week, declined to 320,000 for the week ending 10 August, down from 335,000 in the previous week.
Meanwhile, another report released by the US Department of Labor showed that US consumer price inflation increased as expected in July. Consumer price index rose 0.2 percent in July, pushing the annual rate of inflation to the Fed's target of 2 percent, after gaining 0.5 percent in the prior month.