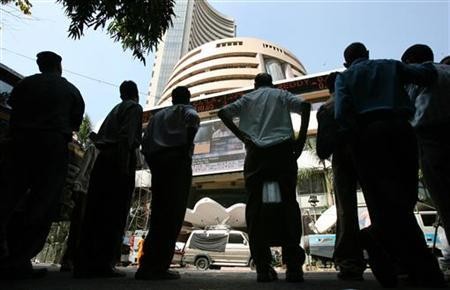 Indian stocks are expected to advance on Monday as firm trend in Asia and rupee's recovery may offer support to market sentiment.
The BSE Sensex and NSE Nifty ended on a positive note for the second straight session on Friday, helped by gains in consumer durables and banking sector shares. Both major benchmark indices surged more than 3.5 percent in the last two sessions as the Indian rupee recovered from its new all time low of 68.85 recorded on Thursday.
Data released by the Central Statistical Office on late Friday showed that India's gross domestic product (GDP) grew 4.4 percent in the first quarter, its slowest pace in four years, down from 4.8 percent in the previous quarter and 5.4 percent in the same quarter last year, and also fell short of Bloomberg's estimation for a 4.7 percent growth in the April- June period.
Meanwhile, Asian stock markets advanced on Monday as better than-expected Chinese manufacturing data buoyed investor sentiment. Japan's benchmark Nikkei 225 gained 0.77 percent and Hong Kong's Hang Seng surged 1.75 percent, while China's Shanghai Composite advanced 0.06 percent and South Korea's KOSPI rose 0.02 percent.
Data released by the China Federation of Logistics and Purchasing showed that Chinese manufacturing activity expanded at the fastest pace in more than a year last month. China's official Purchasing Managers' Index (PMI) rose to 51.0 in August, its highest level since April 2012, from 50.3 in July and also topped Reuters estimation for a reading of 50.6.
US stock markets declined on Friday as sentiment was weighed down by concerns over possible US action against Syria and disappointing data on consumer spending. The Dow Jones Industrial Average declined 0.21 percent, the S&P 500 Index was down 0.32 percent and the Nasdaq Composite Index fell 0.84 percent.
Data released by the US Department of Commerce on Friday showed that personal spending inched up by 0.1 percent in July, down from an upwardly revised 0.6 percent gain in the prior month and also fell short of analysts' estimation of 0.3 percent. Meanwhile, the Thomson Reuters/University of Michigan final reading on the overall index on consumer sentiment declined to a four-month low of 82.1 in August from 85.1 in July.