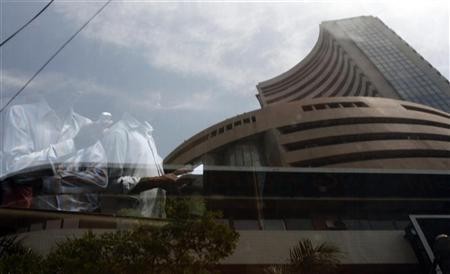 Indian stocks markets are expected to advance for the third straight session on Monday as firm trend in global markets and the rupee's recovery may offer support to market sentiment.
The BSE Sensex and NSE Nifty ended with gains for the second straight session on Friday, helped by gains in capital goods, banking and energy sector shares. Both major benchmark indices surged more than 3 percent in the last two sessions as the Indian rupee recovered from its new all time low of 65.56 recorded on Thursday.
Asian stock markets mostly advanced on Monday, tracking positive cues from Wall Street Friday as disappointing housing data raised hopes that the Federal Reserve will have bond purchases tapering.
Hong Kong's Hang Seng gained 0.78 percent and South Korea's KOSPI advanced 0.31 percent, while Japan's benchmark Nikkei 225 declined 0.05 percent and China's Shanghai Composite rose 0.04 percent.
"We have been calling for the actual taper to start in October as we believe the September meeting will be the blueprint meeting; where the Fed will spell out exactly when, how, with what conditions and with a fluid timeline to completion," Evan Lucas, market strategist at IG in Melbourne, told Reuters.
US stock markets advanced on Friday on hopes that weaker-than-expected new home sales data slightly eased concerns that the Fed may start scaling back its asset buying program as soon as next month. The Dow Jones Industrial Average gained 0.31 percent, the S&P 500 Index was up 0.39 percent and the Nasdaq Composite Index rose 0.52 percent.
Data released by the US Census Bureau on Friday showed that new home sales declined to a seasonally adjusted annualised rate of 394,000 in July, down from a revised June rate of 455,000 and also widely missed of analysts' estimation of 490,000.