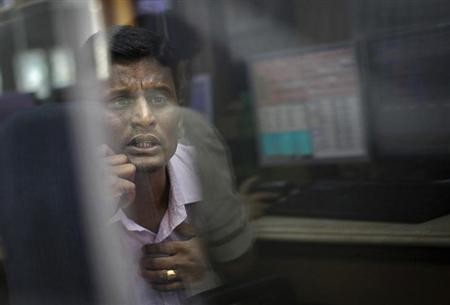 Indian stocks ended lower for a third straight session on Tuesday, weighed down by weakness in consumer durables, auto and healthcare sectors.
The benchmark BSE Sensex declined 0.41 percent, or 74.58 points, to 18,232.94. The 50 share NSE Nifty slipped 0.25 percent, or 13.30 points, to 5,401.45
Markets opened on a weak note, tracking negative cues from Asian peers. Both Sesnex and Nifty plunged more than 1.5 percent in early trading, weighed down by the weak Indian rupee which has hit a new all-time low against the US dollar during early trading hours. The rupee plunged to a record low of 64.13 in early trade, breaching its earlier all time low of 63.30 recorded in the previous session.
However, markets recovered from the day's low by afternoon session as the rupee erased all losses to trade higher on Tuesday after the Reserve Bank of India (RBI) is believed to have intervened heavily in the forex market to stem the currency fall.
"India's problems are nowhere near resolution because New Delhi has not done anything - there is no focus on improving productivity, infrastructure or getting FDI (foreign direct investment) back. It's all about stemming the flow of currency and that is not the cause of the problem," Nomura credit analyst Pradeep Mohinani in Hong Kong, told Reuters.
Among the 13 BSE sectoral indices, consumer durables and auto sector shares experienced selling pressure and ended sharply lower. Consumer durables sector plunged 4.09 percent and auto sector declined 2.65 percent, while metal sector climbed 4.24 percent and realty sector rose 1.78 percent.
The overall market breadth is positive with 1174 advances against 1098 declines on the BSE.
Meanwhile, Asian markets ended sharply lower on Tuesday as fears that the Federal Reserve would start scaling back its asset buying program as soon as in September continued to weigh on the sentiment.
Japan's Nikkei plunged 2.63 percent and Hong Kong's Hang Seng slumped 2.20 percent, while South Korea's KOSPI fell 1.55 percent and China's Shanghai Composite declined 0.62 percent.