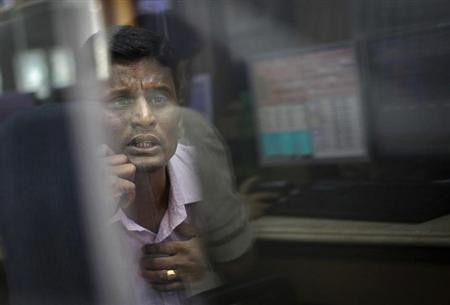 While, sensex and Nifty dipped 0.23 percent and 0.17 percent at 10.30 am, recent losers gained during early trade on Monday.
Tata Motors gained 1.3 percent after falling 5 percent on Friday and Cairn India rose 2.2 percent after slumping 10.7 percent in previous two sessions on loan to parent Group Company. Larsen & Toubro gained 0.4 percent ahead of the financial results on Monday.
At 10:00 am on Monday, Sensex fell 0.01 percent or 1.93 points at 26124.82 points, and Nifty dipped 0.04 percent or 2.90 points recording 7787.55 points. The Indian rupee gained 2 paise at 60.08 per dollar against its previous closing of 60.10 a dollar on Friday.
Among 12 Indian stock Indices, apart from Sensex and Nifty; BSE Oil&Gas, Metals, FMCG, Realty and Health care stocks dipped by 15.74 points,14.83 points,21.61 points,17.20 points and 29.38 points respectively. On Friday, overseas investors purchased Indian shares worth ₹1.25 billion rupees ($20.82 million).
"Foreign ownership of BSE 200 index steady at around 21 percent in June compared with May" Reuters quoted Macquarie group, financial and banking advisor firm. "This is an all time high, with room to grow since unutilised portion is worth $152 billion for BSE 200. In April-June FIIs preferred cyclical, while utilities gained 100 bp in overseas holdings and financials saw 85 bps decline."
On Monday, Larsen & Toubro, Bank of Baroda and Hindustan Unilever announced its results, following which Indian shares traded lower.
Jaiprakash Power Ventures Ltd informed BSE that the company entered into a Memorandum of Understanding (MOU) on 27 July, 2014 with Reliance CleanGen Ltd, a subsidiary of Reliance Power Ltd for divestment of three Hydro Power Plants.
At 10.40 am, Sensex plunged 64.76 points or 0.25 points lower at 26061.99 points, whereas the Nifty declined lower by 16.40 points or 0.21 percent at 7774.05 points.