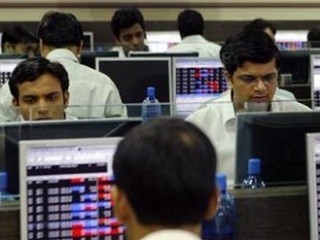 After closing on a record high last Friday, Indian shares started on a positive note at the Bombay Stock Exchange this morning. The market kicked off the pre-opening time slot at 25,479.50 points reaching a high of 25,543.60 points in minutes.
Once the BSE sensex opened for its day of trading, it recorded a surge of 25,552.59 points. However, it saw a slight dip of 34.04 points at 9.17 am. It picked up a minute later and has since seen a gradual rise.
Currently the shares are trading at 25,557.18 points, which is a rise of 160.72 points or 0.63 percent.
The early gainers and losers this morning are:
Gainers:
Symb Last Change Chg %
KLTE.BO 390.05 +65.00 +20.00
EAST.BO 2.76 +0.46 +20.00
PCDT.BO 20.70 +3.45 +20.00
ABCI.BO 115.90 +19.30 +19.98
KNRL.BO 185.00 +30.80 +19.97
Losers:
Symb Last Change Chg %
LEWA.BO 1.12 -0.17 -13.18
RICO.BO 154.80 -20.25 -11.57
OMEG.BO 42.15 -4.65 -9.94
SHGT.BO 29.10 -2.20 -7.03
RDBR.BO 19.40 -1.40 -6.73
The market is likely to see some highs this week on the hopes that the new Prime Minister Narendra Modi and his cabinet will bring about some economic reforms in the country. Expectations from Finance Minister Arun Jaitley are also high and all eyes will be on the interim budget, which will be presented sometime in the coming weeks.
On Friday, BSE index recorded a gain of 1.51 percent as shares of oil and gas companies recorded a consistent surge on hopes that the new government will bring in commendable reforms.
"The market is in a bull run and the momentum is expected to continue. Large overseas funds, which are coming into the market, are looking for quality companies with inherent strength such as ONGC," Deven Choksey, managing director, KR Choksey Securities told Reuters.
"Most of the state-run companies are performing and are getting rerated. There could be intermediate corrections, which are good for the markets."
While Reliance Industries Ltd. gained 3 percent, Oil and Natural Gas Corporation and Gail India Ltd., gained 12 percent and 7.94 percent respectively. Additionally, Oil India recorded a surge of 3.92 percent.
However, shares of Infosys India witnessed a drop of 2.7 percent due to a senior executive quitting the firm. Prasad Thrikutam, who was in charge of strategic sales, marketing and alliances, turned in his papers on Thursday, adding to the list of senior managers, who have bid farewell to the firm in the last few months.