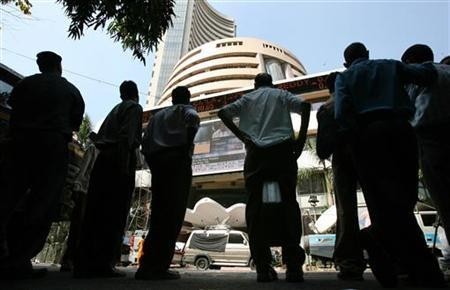 Indian shares opened flat on Thursday, due to weak Asian rivals. Investors are also looking forward to some security before the new government presents its budget early or mid July. The BSE sensex took off at 24,794.61 points at 9.00 am and recorded a peak of 24,862.78 points.
The market opened at 9.15 am for trading day at 24,788.33 points and recorded a slight fall few minutes later. However, it gained it stability and recorded a gain of 31.17 points reaching 24,810.17.
At present, it is trading at 24,654.23 points, which is a fall of 151.60 points or 0.61 percent.
The early gainers and losers for the day are:
Gainers:
Symb Last Change Chg %
ASGI.BO 58.35 +9.70 +19.94
REAL.BO 30.30 +4.45 +17.21
RPCC.BO 40.70 +2.70 +7.11
SANG.BO 45.20 +2.90 +6.86
CPA.BO 65.00 +1.95 +3.09
Losers:
Symb Last Change Chg %
OMEG.BO 52.00 -5.75 -9.96
SHGT.BO 32.20 -2.55 -7.34
OSCM.BO 235.00 -15.30 -6.11
MMWW.BO 3.08 -0.15 -4.64
CTEL.BO 7.40 -0.35 -4.52
Meanwhile on Wednesday, the shares recorded a fall after registering closing highs in earlier sessions. The BSE index fell 0.21 percent as figures of IT companies such as Tata Consultancy Services dipped due to concerns of the effect of a stronger rupee.
Infosys ended 1.1 percent lower than its previous figures, and HCL Technologies recorded a loss of 3 percent.
Pharmaceutical majors such as Dr.Reddy's Laboratories and Sun Pharmaceutical Industries also recorded a drop of 1.2 percent and 0.8 percent respectively.
On the other hand, shares of fertilizer brands like Chambal Fertilisers and Chemicals rose 6.5 percent and Rashtriya Chemicals and Fertilizers clocked a surge of 6 percent. Additionally shares in insurance companies also recorded gains, amidst hopes that the new government might increase the Foreign Direct Investment limit in the sector from 26 percent to 49 percent.
Max India surged 13 percent, while Reliance Capital and Bajaj Finserv gained 4.6 percent and 5 percent.
(With inputs from Reuters)