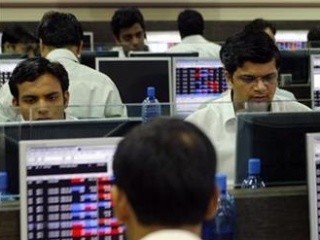 Indian stock markets advanced Wednesday as sentiment was buoyed following news that the U.S. Congress passed the tax bill to avert the fiscal cliff.
The 30-share BSE Sensex gained 0.73 percent or 142.30 points to 19,722.84 and the 50-share NSE Nifty breached the 6,000 mark for the first time in two years before coming back to 5,994.10 level.
Markets opened on a positive, tracking positive cues from Asian peers. Asian stock markets surged on Wednesday with Hong Kong's Hang Seng climbing to the highest level in 19 months after the U.S. fiscal cliff deal news sparked broad-based buying.
The U.S. House of Representatives voted in favor of the Senate-approved tax bill late Tuesday that will see a hike in income tax rates on only the wealthiest adults and stops the world's largest economy from falling back into a recession. The deal will allow tax hikes for individuals earning more than $400,000 and couples making more than $450,000, which is a surge of 39.5 percent from the current 35 percent rate.
Adding to the sentiment, a business survey on Wednesday showed that India's manufacturing sector growth improved further in December backed by strong export orders.
The HSBC Markit India Manufacturing PMI, a composite indicator that gauges the factory output and operating conditions in the manufacturing sector, rose to 54.7 in December, the highest level since January 2012, from 53.7 in November.
All the sectoral indices were trading with gains except IT and FMCG. Consumer durables and capital goods sectors surged 1.69 percent and 1.40 percent respectively while FMCG sector declined 0.32 percent.
Banking sector shares continue to gain on hopes that the sector would benefit from an anticipated fall in interest rates. IndusInd Bank surged 2.50 percent, Yes Bank advanced 2.07 percent and PNB rose 1.92 percent.
The overall market breadth was positive with 1777 advanced against 140 declines. The BSE's Midcap Index gained 0.58 percent to 7,239.36 and Smallcap Index advanced 0.85 percent to 7,515.88. CNX midcap Index gained 0.33 percent and CNX IT declined 0.20 percent.