On Friday, besides the Indian Rupee; BSE Sensex and NSE Nifty opened lower by 2.68 points and 10.2 points, after gaining for the third day on Thursday.
According to Reuters, the Indian shares fell following the rise of violence in Gaza. The figures were also affected by the Malaysian air crash, when flight MH17 was shot down in Ukraine-Russia Border.

Sensex opened at 25558.48 points versus its previous closing of 25561.16 points and the broader Nifty opened at 7630.25 points versus its closing on Thursday at 7640.45 points.
The Indian Rupee opened 28 paise weaker at 60.45 per dollar against its previous closing at 60.17 a dollar on Thursday. According to dealers, the Indian currency will continue to trade in a narrow range for few days.
Moreover, State run banks are clearing the transactions for oil and defence payment. "Volumes have been low and sentiment, dull. The dollar rupee pair will remain in a narrow range for the rest of this week," Reuters quoted a dealer from a state-run bank.
The equity traders have expected the Indian stocks to trade range bound in the short term, but have predicted the markets to be bullish in long term. On Thursday, FII bought Indian shares worth ₹9.12 billion ($317.71 million), even though global inversion has led the stocks plunge on Friday's trading.
Indian Stock index:

At 11 am on Friday, among all 12 Indian stock indices only BSE IT appeared surging with a profit of 185.88 points or 2.01 percent at 9453.92 points. The others were recorded falling.
Major players plunged on Friday's trading. Some of them were SBI, BHEL, Larsen and Turbo, Tata Power and among others. But, Tata Consultancy Services' stock rose after the company announced their profits for the April-June quarter. The company's stock recorded a profit figure of ₹81.80 or 3.43 percent, which was being traded at ₹2463.75 on Friday.
On the other hand, BSE FMCG and BSE Banking recorded the highest fall with loss of 101.54 points and 110.67 points at 15791.83 points and 17366.83 points.
In the meantime, BSE Sensex fell by 30.38 points at 25530.78 points and NSE Nifty recorded loss of 14.70 points at 7625.75 points. Among 30 listed companies in Sensex, stock prices of only 9 companies rose and among 50 listed companies in Nifty, share prices of only 13 companies surged.
World markets: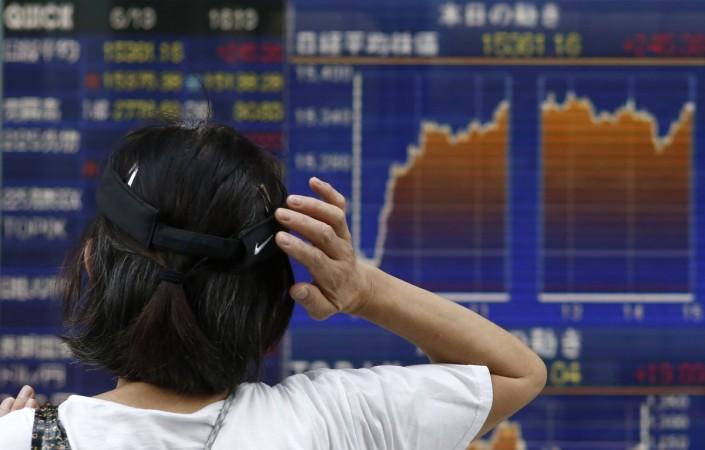 As on 11 am on Friday, among Asian Stock markets, Japan's Nikkei 225 plunged by 180.59 points or 1.17 percent at 15189.67 points. Nikkei was previously closed at 15370.26 points.
While, Hang Seng index too traded lower by 89.92 points or 0.38 percent at 23430.95 points. It was closed at 23520.90 points on the previous day.
US Stocks too sank on Thursday, recording its biggest one day drop since 10 April after air crash incident on Ukraine border. The Dow Jones, S&P 500, NASDAQ and TR US Index fell by 161.39 points, 23.45 points, 62.52 points and 2.12 points.
The Malaysia Airline crash on Ukraine-Russia border has also affected European stocks on Thursday. FTSE 100, DAX, CAC 40 and TR Europe plunged by 46.35 points, 105.39 points, 52.94 points and 1.80 points.