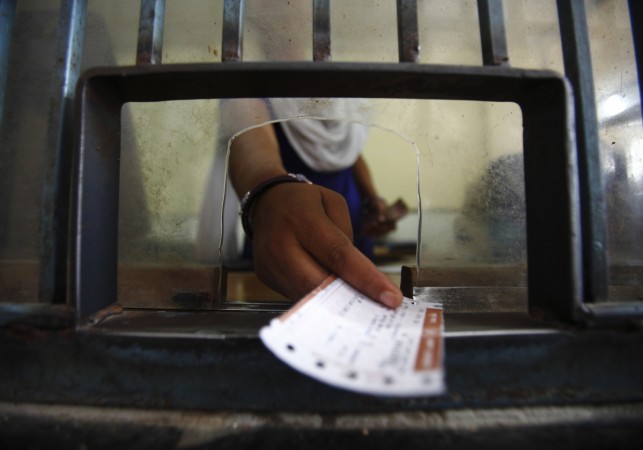 Indian Railways (IR) has revised the timings of Tatkal ticket booking, which come into effect on Monday, 15 June.
According to the revised format, reservation of Tatkal tickets for AC classes would commence at 10am and close at 11am.
Soon after, ticket reservation for Non-AC coaches (i.e. Sleeper) will begin (at 11 am). Both the reservations will be available on the previous day of journey from the train's originating station.
"It has been decided that w.e.f. 15.06.2015, timings for booking of Tatkal tickets will be staggered for AC & non-AC classes to 1000 hours onwards and 1100 hours onwards respectively," a Railway Ministry release said.
"Hence, now the reservation under Tatkal scheme will open at 1000 hours on the previous day of journey from train originating station for AC classes whereas that for non-AC classes will start at 1100 hours on the previous day of journey from train originating station."
Earlier, Tatkal booking used to start at 10 am for reservation in both AC and Non-AC classes (Sleeper).
Apart from changes in Tatkal booking timings, IR also made amendments to all booking timings for ticketing agents. Under the revised schedule, agents such as YTSK and IRCTC will not be allowed to book tickets during the first 30 minutes of commencement of ticket booking.
"Moreover, all types of ticketing agents (YTSK, RTSAs, IRCTC agents, etc.) will now be debarred from booking tickets during the first thirty minutes of opening of booking i.e. from 0800 to 0830 hours for general bookings, and from 1000 to 1030 hours & 1100 to 1130 hours for Tatkal booking in AC & non-AC classes respectively," the release said.
IR mulling refund on Tatkal tickets
Besides changes in Tatkal booking timings, Railways is also considering refund on cancellation of confirmed Tatkal tickets. At present, there is no refund on any (confirmed or unconfirmed) tatkal tickets.
"We are considering to refund certain percentage. We will have a time frame and if a passenger cancels (a tatkal ticket) within the time frame, he will be refunded accordingly," PTI quoted an IR official as saying
IR is also mulling to introduce refund on ticket cancellations of premium trains, which may be "up to 50 per cent", he said.