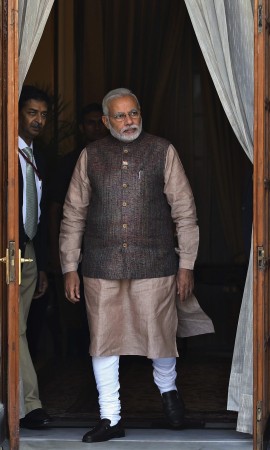 With the 46 nurses who were trapped in the conflict zone of Iraq returning to the country today, the development has come as a huge diplomacy victory for the newly formed Narendra Modi government, given that the Sushma Swaraj-led Ministry of External Affairs worked continuously with Iraqi officials and Indian embassies.
However, this is not the first instance where the new government has had to pull out all pages in its book of diplomacy to ensure the safety of Indian nationals trapped abroad. Since the time the Modi government assumed office on 26 May, there have already been several cases of Indians being held hostage in foreign countries.
Here is a look:
In Nigeria - Pune resident K Swaminathan was held captive in Nigeria for five days last month and was rescued after the Ministry of External Affairs intervened, The Indian express reported. He was kidnapped for ransom money of 10 million Nigerian Naira, which equals to ₹37 lakh, and was rescued after the Nigerian Army launched an attack on his abductors.
In Sudan - Last month, an Indian IT engineer who was abducted in Sudan for ransom was freed after he had faced torture at the hand of his abductors for three months. Irfan Jaffrey was working with a multinational firm in Sudan's Darfur region and was abducted on 11 March, with his abductors demanding a ransom of about ₹32 lakh, according to Zee News. The Indian envoy in Sudan was working along with the UN mission there to secure his safe release.
In Afghanistan – One of the early tests for the Modi government's diplomacy skills came when an Indian priest was abducted in Afghanistan. Indian aid worker Alexis Kumar, a priest from Tamil Nadu was abducted by gunmen in heart in Afghanistan on 2 June, days after an attack on the Indian consulate in Afghanistan. Prime Minister Modi had himself assured of Kumar's release. Though the priest is said to be safe, he is yet to be released and brought back to India.
"I have been assured that the Government of Afghanistan and the authorities in Herat are taking every possible step to ensure the early release of Father Prem Kumar," Modi had said in assurance to Tamil Nadu Chief Minister J Jayalalitha, The New Indian Express reported.
In Iraq -The current conflict in Iraq where 10,000 Indian nationals are estimated to be staying has put immense pressure on the Indian government to ensure they are safe and work towards their return. While hundreds of Indians, including the 46 nurses who were taken from Tikrit to Mosul by ISIS militants, already being evacuated out of Iraq with coordination between the government and its embassies, 39 Indian workers are still expected to be held hostage in Mosul while several others remain in the conflict zones.