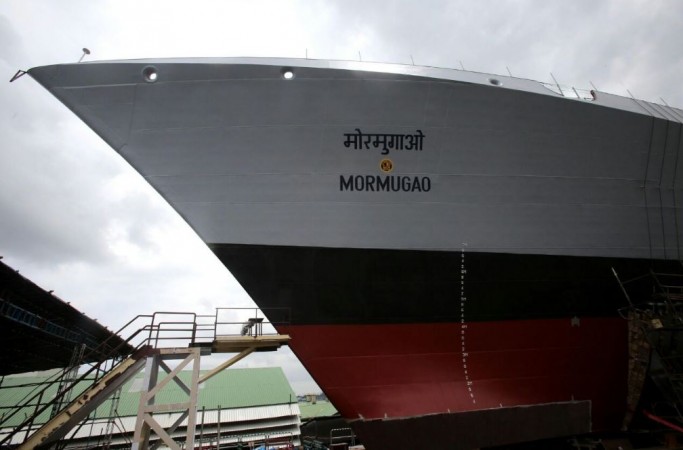 India launched a new and advanced stealth guided missile destroyer Mormugao into the sea on 17 September after it was blessed by a priest, a mandatory custom at Mazagaon Dock Shipbuilders Ltd (MDL), Mumbai. Navy chief Admiral Sunil Lanba launched the vessel into the sea, a milestone for the ship.
This is the second ship under Project 15B, also known as the Vishakhapatnam-class of ships. The ship will now be fitted out and is expected to be inducted into the Indian Navy after two years. Once the ship is inducted, it will be a major booster for Navy to become a true blue water force.
Together there will be four ships in the Vishakhapatnam-class, which are being built at a cost of Rs 29,700 crore. Mormugao's induction will be followed by construction of Paradip and later by Porbandar. The ships being constructed will bear the Make in India tag.
Mormugoa has a displacement of 7,300 tonnes, spans 163m in length and 17.4m at the beam. It will be powered by four Ukrainian gas turbine engines, gaining speed of over 30 knots.
The ship is designed to operate at 4,000 nautical miles at sea and can house 50 officers and 250 sailors.
The ship is advanced and has a full beam super structure and canted ship-side to reduce the radar cross section, adding a stealth feature to the ship. The ship is designed to be less detectable by radar and will use radar absorbent paint. It is expected to have propellers that are more silent, in order to make its detection a difficult affair.
The ship has several indigenous elements like automated power management system, combat management system, indigenous rocket launcher, AK 630, a fully automatic naval close-in weapon system, indigenous torpedo tube launcher, foldable hangar door, DMR 249A steel and rail less helo traversing system, said the official data for Project 15 B provided to LiveFist, a defence blog.
Mormugao is expected to feature Israeli-designed Multi-Function Surveillance Track And Guidance Radar (MF-STAR) as its key sensor. The radar helps the ship target track long-range threats. It has the ability to track both air and surface targets and can track multiple targets simultaneously.
Once the radar initiates a lock-on, it directs Barak 8 Long-Range Surface to Air missiles (LR-SAM) to intercept. The Barak 8 missiles are an Indo-Israeli joint venture and are one of the most sophisticated missiles in its class in the world, with a range of 70km.
The destroyer will also be featuring BrahMos supersonic cruise missile that can take down targets at a range of 300km.
India is currently building 39 ships across the country and has 130 warships. However, the navy has grand ambitions and is expected to have 212 ships by 2027. India wants to build a powerful navy to safeguard its interests beyond the Indian Ocean Region (IOR).