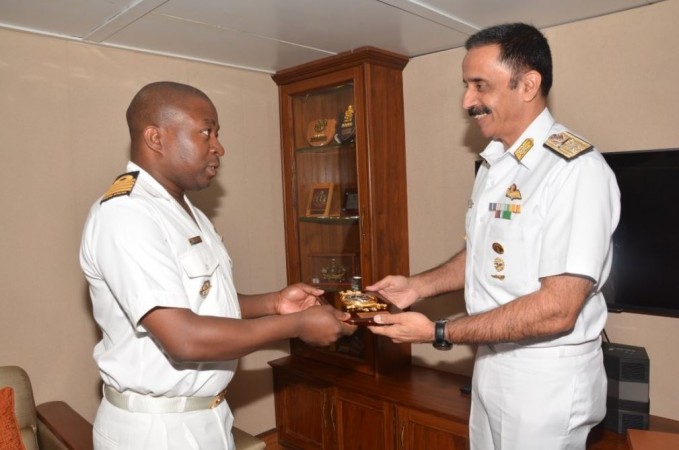 Three Indian Navy ships from its Western Fleet arrived at Durban, South Africa on September 20 for a three-day visit to enhance naval cooperation.
The naval contingent includes three Indian ships -- stealth guided-missile destroyer INS Kolkata, guided missile frigate INS Trikand, and replenishment and repair ship INS Aditya. The contingent is under the command of Rear Admiral Ravneet Singh, the flag officer commanding Western Fleet.
The three ships are expected to have professional interactions with the South African Navy. They are expected to "enhance cooperation, share nuances of naval operations" that will include "combating maritime threats of terrorism and piracy."
Singh is expected to call on senior South African government and military authorities to discuss training and technical cooperation measures. They will also be discussing strengthening ties and mutual understanding between the two forces and plans afoot to include sporting and cultural activities.
South Africa has a significant population of people with Indian origin. It is also a friendly country with the two nations having close diplomatic ties.
In July, Prime Minister Narendra Modi had visited South Africa and highlighted the need to have better trade. New Delhi is also seeking Pretoria's help in securing Nuclear Suppliers Group (NSG) membership. South Africa is also a part of the BRICS countries that include India, Russia, China and Brazil.
India is also worried about the growing Chinese influence in South Africa. China is South Africa's biggest trading partner with over $60 billion in trade and it is a key partner in the Chinese One Belt, One Road project, The Hindu reported.
Nevertheless, India is committed for better relations with South African and this visit is testimony to that. In 2014, India had participated in a trilateral maritime exercise, IBSAMAR, involving the navy of Brazil, India and South Africa.
South Africa was also a participant at February's International Fleet Review in Visakhapatnam.
The three ships from the Western Fleet are on a two-month deployment to Western Indian Ocean. Previously, the warships visited Mozambique, Kenya, Tanzania, Madagascar, Mauritius and Seychelles.
Indian Navy has broadened its role from being a defender of India's coast to protector of the country's strategic interest in the crucial Indian Ocean Region and beyond.