A day after the Union budget was presented by Finance Minister Arun Jaitley, Sensex and Nifty opened on a bullish note but later traded lower. On Friday, BSE Sensex opened with a surge of 116.11 points at 25488.86 points and the NSE Nifty rose by 16.35 points at an opening figure of 7584.10 points.
Meanwhile, the Indian rupee weakened by 10 paise on Friday at 60.30 a dollar versus its previous closing of 60.20 per dollar on Thursday.
On Thursday, the BSE Sensex closed lower by 0.28 percent at 25372.75 points, while the Nifty fell by 0.23 percent settling down at 7567.75 points. Moreover, NSE index futures traded at Singapore exchange and MSCI-Asia Pacific shares excluding Japan index rose by 0.2 percent and 0.1 percent respectively. According to Reuters, foreign investors bought shares worth ₹1.61 billion on Thursday's trading.
Stock price of Infosys surged after it announced that the company recorded gains in its second quarter till 30 June. The company breached its estimated results by 21.6 percent and stock price of Infosys was recorded at ₹3331 with an increase of ₹38.30.
IT Sector stocks rose by 113.22 points at 9360.46 points during trading at 11:55 am. In the mean time, among 12 Indian stock indices, 8 were trading lower. Whereas, IT Stocks, FMCG, Realty and Health care stocks surged by 108.47 points, 69.57 points, 2.36 points and 163.12 points respectively.
Additionally, the Sensex traded on bearish note at 12 pm, as it fell by 167.71 points at 25205.04 points. Nifty too recorded low after surge during early trading on Friday. IT Stocks helped Nifty surge initially, but loss of other stocks led the overall Nifty index to plunge by 52.40 points at 7515.35 points.
Stock prices of 35 companies fell in NSE Nifty index at 12 pm, while, stock prices of 20 companies plunged in BSE Sensex.
In the mean time, top gainers from BSE were; Vikas Granites, Mahavir Industries, Mukesh Babu Financial Services, Resonance Specialties and Baba Arts. Besides this, Parichay Investments, Real Strips, Jain irrigation Systems, Jenson-Nicholson and Royal Indian Corporation Ltd were among top losers. However, the position of the above mentioned companies changed frequently during trading hours.
On Friday, The Reserve Bank of India (RBI) traded 28 securities worth ₹61.93 billion rupees at eight percent rate for three days Repo auction. RBI has kept the repo rate on hold since February 2014. The Central bank has considered both inflation indicators to come up with monetary policies. So, it has raised policy rates three times since September.
"A sub-normal monsoon scenario puts the ball in the government's court to prevent a rate response by the RBI," Reuters quoted Raghuram Rajan, RBI Governor.
World Markets: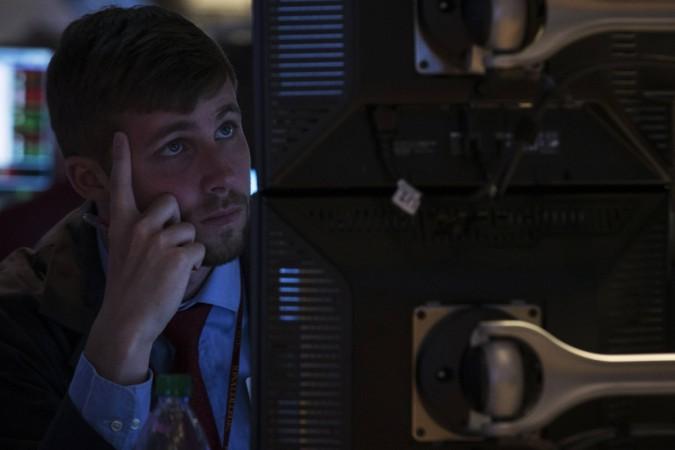 At 12:40 pm, Japan's Nikkei plunged by 52.43 points by recording 15164.04 points and Hang Seng index too fell at 23169.87 points by 69.12 points.
In the mean time, majority of US market appeared declining due to concerns regarding Europe's Portugal Stock Exchange market. The bench mark PSI 20 index recorded its biggest seven-day drop since August 2011.
"There is worry about contagion," Wall Street Journal (WSJ) quoted Thomas Roth, a government bond trader from USA.
"The theory is that it could lead to bank failures and throw us back into recession," he added. However, on Friday, PSI20 Index was recorded at 6097 points with fall of 7.74 points and 0.13 percent.
European stock indices, FTSE 100, DAX, CAC 40 and TR Europe surged by 19.20 points, 37.10 points, 17.53 points and 0.54 points during trading hours at 1 pm on Friday.