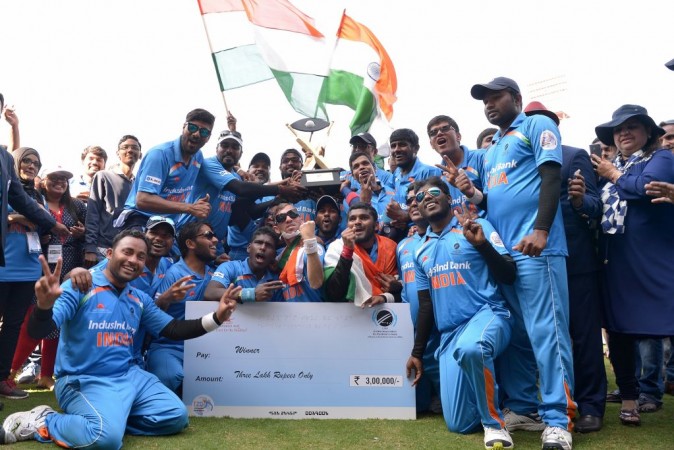 Cricket Association for the Blind in India (CABI) on Monday (December 4) announced a 17-member Indian blind cricket team for the 5th ODI World Cup Cricket Tournament For The Blind, 2018 which will be held in Pakistan and Dubai from January 7 to 21.
Apart from India, Pakistan, Nepal, Bangladesh, Sri Lanka, Australia and South Africa are the other participating nations in the event.
Prior to selecting the World Cup squad, zonal and national tournaments were conducted in different parts of the country from October 8 to November 3, 2017. The 24th national championship was conducted in Mumbai from where 56 players were selected for the final selection camp in Pune.
The selected members will now undergo training in a month-long camp, supported by BookASmile, the charity initiative of India's largest online entertainment ticketing brand BookMyShow, and scheduled to held at Gopalan School Complex, Whitefield, in Bangalore from December 6, 2017 to January 4, 2018.
The camp will have a number of activities including fitness sessions, food and nutrition advises, personality development sessions, meditation & yoga sessions and training sessions from renowned cricket coaches.
There will also be team building activities, friendly matches with corporates' and celebrities. The camp will come to an end on January 4, 2018 and the team will leave for Pakistan on January 5, 2018, to take part in the World Cup.
Full squad

| | | | |
| --- | --- | --- | --- |
| No | Name | Category | State |
| 1. | Md. Jafar Iqbal | B1 | Odisha |
| 2. | Nareshbhai Tumda | B1 | Gujarat |
| 3. | Mahender Vaishnav | B1 | Telangana |
| 4. | Sonu Golkar | B1 | Madhya Pradesh |
| 5. | Prem Kumar | B1 | Andhra Pradesh |
| 6. | Basappa Vadgol | B1 | Karnataka |
| 7. | I Ajay Kumar Reddy | B2 | Andhra Pradesh |
| 8. | D Venkateswara Rao | B2 | Andhra Pradesh |
| 9. | Ganeshbhai Muhudkar | B2 | Gujarat |
| 10. | Surajit Ghara | B2 | West Bengal |
| 11. | Anilbhai Gariya | B2 | Gujarat |
| 12. | Prakash Jayaramaiah | B3 | Karnataka |
| 13. | Deepak Malik | B3 | Haryana |
| 14. | Sunil Ramesh | B3 | Karnataka |
| 15. | T Durga Rao | B3 | Andhra Pradesh |
| 16. | Pankaj Bhue | B3 | Odisha |
| 17. | Rambir | B3 | Haryana |