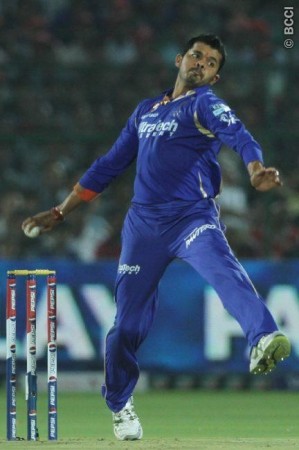 Playback singer Madhu Balakrishnan, who is also Shanthakumaran Sreesanth's brother-in-law, has revealed that the Indian pacer survived a murder attempt in Tihar jail.
The singer stated that Sreesanth was lucky to have escaped unhurt.
"A goon in the jail threatened to murder Sreesanth with a weapon that he made by sharpening a door's bolt. Luckily, Sreesanth escaped unhurt," Balakrishnan told Manorama News.
Such kind of incident is nothing new in jail, where criminals make use of everything that is available to make weapons out of it.
But when the jail officials came to know about what transpired, they were quick to react to the situation as they were aware of the threat, and decided to shift the pacer to another cell.
"We don't know whether there was any action after that," he said.
"We are also not sure whether it had anything to do with the IPL scam," Madhu added.
The speedster was one of the most talented bowlers of the Indian cricket team, but it was his temperament, which let him down. Most often, he hogged the limelight for the wrong reasons and it was his antics, which got the entire cricketing world talking rather than his on-field performances.
At times, he would celebrate in the weirdest manner after taking a wicket, thereby attracting eyeballs.
Throughout his career, he was a troubled cricketer despite his talent. Had he used his talent in the right manner, he could have been playing for India in the ongoing World Cup in Australia and New Zealand.
He made his ODI debut in 2005 and was rated very highly, for he could swing the new ball like no other Indian at decent pace and had an impeccable seam position, probably the best in world cricket. He took 75 ODI wickets from 53 matches as well.
He played 27 Test matches for India taking 87 wickets after making his Test debut for India in 2006.
But it was his involvement in the IPL scam, which stalled his cricket career. The player was arrested in Mumbai for his involvement in IPL spot-fixing and was handed life ban for the same later.
He was booked under section 420 and 120-B of the Indian Penal Code.