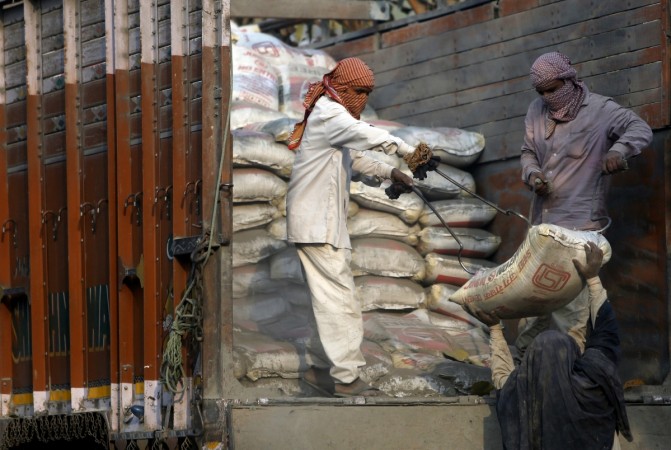 A recovery in demand on the back of a good monsoon this year and low capacity additions are likely to reflect in the earnings of cement companies, leading to a re-rating of shares of these firms, according to a Deutsche Bank sector note. Shares of most cement producers such as India Cements, Ambuja Cements, ACC, UltraTech Cement were trading with gains in the range of 1 to 4 percent.
In its sectoral analysis, Deutsche Bank said that the progressive distribution of rainfall in the country augurs well for the sector in the second half of the current fiscal after a weak demand in August in the range of 2 to 4 percent. An update by the official weather forecaster of India puts the rainfall at 95 percent of the average for the period June 1 to Sept. 11, 2016.
"However, most players agree that rainfall across most parts of the country has been normal and this has raised hopes of a pick-up in housing demand across rural parts, tier-2 and tier-3 cities in the second half of this year," Chockalingam Narayanan, research analyst at Deutsche Bank, said in his note.
The second boost is expected from the pick-up in roads. "Road construction activity has remained strong, barring the normal slackness seen in the monsoon season. In this scenario, we maintain our demand growth estimate for FY17at 7 percent – implying an ask rate of 9 percent demand growth in 2H (October 2016 to March 2017)," he added.
The price dynamics for cement firms in India, the second-largest producer of cement in the world, is also likely to benefit from negligible capacity addition and consequently, supply.
"Notwithstanding monsoons being active across most parts of the country, the price correction in the majority of regions has been minimal (2-4%), and in some cases (Maharashtra and Andhra/Telengana) has actually improved. This has largely been possible as there are no new players or capacity in these markets; channel members indicated that this raises the likelihood of further price improvement when demand recovers post monsoons," Narayanan said.
An exception to a fairly stable capacity scenario is in eastern India, with companies such as the Emami Group, ACC, Shree Cements and UltraTech ramping up capacity.
The cement sector went through a tough time till recently on account of weak domestic demand and cheap imports from Pakistan and China.
The demand growth for cement was at a decade-low of 2.2 percent in the first nine months of FY2016, according to a report in BusinessLine.
Shares of cement companies were trading with gains on Wednesday on a lacklustre day. India Cements was the biggest gainer, up 5 percent at Rs. 149.55, at around 3 p.m. ACC was trading at Rs. 1,619.75 (up 2.35 percent), Ambuja Cements at Rs. 264.30 (up 1.38 percent), UltraTech Cement at Rs. 3,939.65 (up 1.85 percent) and Prism Cement at Rs. 108.95 (up 1.82 percent).