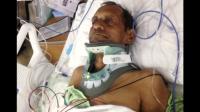 An Alabama police officer has been arrested on charges of brutally assaulting a 57-year-old Indian and leaving him partially paralysed.
Eric Parker had assaulted Sureshbhai Patel on 6 February. Patel's attorney Henry F Sherrod said he was attacked for his brown skin and for not being able to speak fluently in English.
Parker was charged with assault on Thursday and chief of Madison Police Force, Larry Muncey, has already proposed his termination.
The Madison Police took action against Parker hours after the victim filed a complaint over his treatment.
Muncey further said that the Federal Bureau of Investigation was looking into the matter as Patel was assaulted although he had not committed any crime. Muncey also apologized to Patel for the assault.
"I sincerely apologise to Mr Patel, Mr Patel's family and our community. We strive to exceed expectations," Muncey said at a news conference, PTI reported.
After releasing the audios and videos of the incident, Muncey said that FBI would also look into the possibility of any federal violations in the matter. Parker has been arrested on third-degree assault charges.
Patel had arrived in the city just a day before the assault to take care of his 17-month-old grandchild.
The policemen said they had received a call from a neighbour who had allegedly seen Patel peeping at houses and garages. The police personnel rushed to the spot and interrogated him.
However, the video shows Patel quietly walking on the sidewalk when the cops began questioning him. Parker is soon seen assaulting him. A few minutes later, when the cops try to lift Patel from the ground, he couldn't stand on his own.
Patel's attorney has informed that he has been injured severely in the incident and has been partially paralysed. He is undergoing treatment at a city hospital.
Related