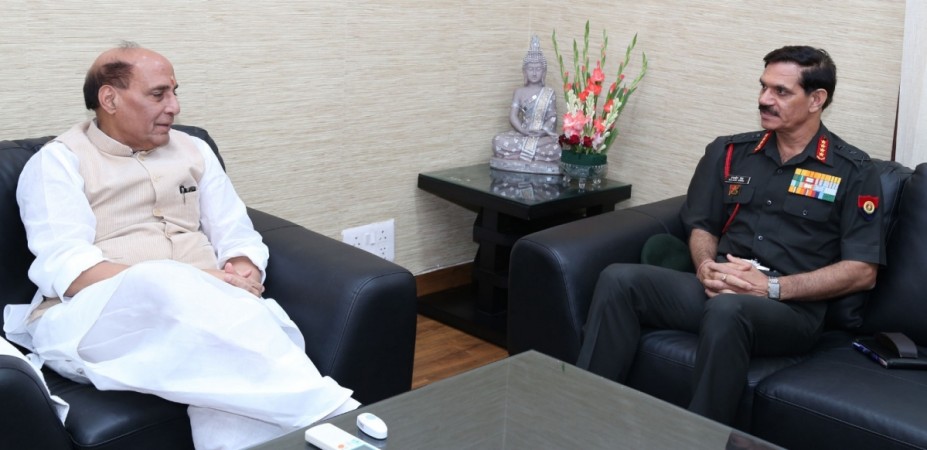 Minister of Home Affairs Rajnath Singh has said that all attempts were being made "to free Indian soldier in Pakistan captivity." India will take up the matter with Pakistan.
The Indian Army sources had said that one Indian soldier, belonging to the 37 Rashtriya Rifles, had inadvertently crossed to the other side of the Line of Control to Pakistan. Sources added that Lieutenant General Ranbir Singh, the Director General of Military Operations, had informed Pakistani officials via hotline.
The captured soldier was identified as 22-year-old Chandu Babulal Chohan, son of Bashan Chohan, from Maharashtra, the Dawn reported adding that eight Indian soldiers had been killed in the strikes while one was captured alive. He has been shifted to an undisclosed location.
Dismissing the fears of his death, army sources told ANI that "such inadvertent crossing by Army and civilians not unusual on either side. They are returned through existing mechanisms."
Rajnath Singh chaired a meeting at 11 am on Friday to review internal security after the Indian Army carried out surgical strikes on seven terror launch pads across the Line of Control (LoC) on Wednesday night killing two Pakistani soldiers and 38 terrorists.
The home minister had also spoken to the chief ministers of the border states, former prime ministers Manmohan Singh and H D Deve Gowda, Congress leader Ghulam Nabi Azad and CPM general secretary Sitaram Yechury right after the announcement that the army had carried out the strikes.
Following the announcement by Director General of Military Operations (DGMO) Lieutenant General Ranbir Singh, the home minister lauded the army in a series of tweets, which said: "Congratulations to the Indian Army on successful counter terrorism operations against terror groups and their launching pads. We are proud of our armed forces. They have once again exhibited exemplary courage and valour by destroying the anti India designs. I also congratulate Prime Minister Shri @Narendramodi on taking a bold decision and showing true grit and mettle in crucial times."