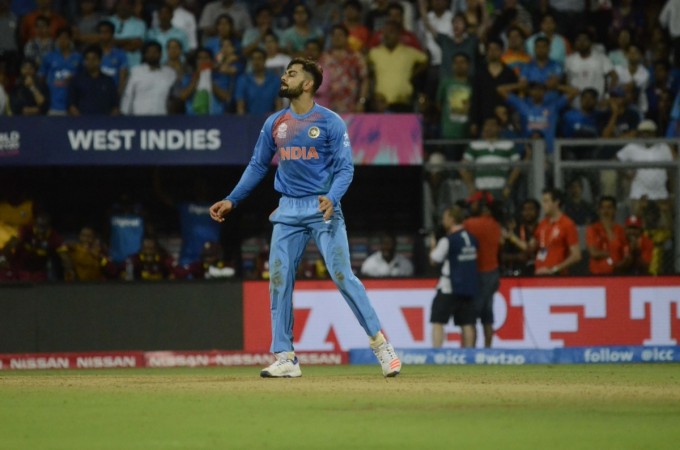 India Team's superstar Virat Kohli, possibly the only cricketer who deserved a standing ovation following his performance in the ICC World T20 2016, has thanked the fans and said that the Men in Blue will return "stronger and better." India's campaign in the competition came to an end against West Indies in the semifinals.
Kohli, 27, achieved quite a number of records for himself as he scored a total of 273 runs in five games during the World T20 this year. His 89 not out for India against West Indies at Wankhede Friday also made him the first batsman in T20Is to record three fifties in three innings of the ICC World T20 knockout matches, according to the Press Trust of India.
The Royal Challengers Bangalore star had earlier scored 72 not out in the semifinal against South Africa at Dhaka April 4, 2014, and he performed with the bat once again by scoring 77 in the final vs Sri Lanka in the same tournament. The Lankan Lions became the eventual champions that year.
Kohli also became the first batsman in T20Is to record 50-plus scores in 16 innings, overtaking the 15 each by Chris Gayle and Brendon McCullum.
He tried his best to guide India to the final of World T20 2016. Not only with the bat, but he also gave huge smiles to the fans as he took a wicket off his first ball in the match. Kohli was moments away from confirming an "immortal" status for himself as West Indies needed eight off the last six balls and Kohli was entrusted with the bowling duties.
However, luck was not on his side that time. The Caribbean side won the game with two balls to spare.
It was hard to accept defeat by the home team and Kohli in particular, after all his efforts went in vain. Nevertheless, life is all about moving on and coming back stronger and the star batsman knows it well.
"We win some we lose some, but memories are something we take ahead with us, we move ahead learning from our mistakes and improve each day," Kohli wrote on Instagram. "Thanks for making it a memorable tournament together my brothers. And thank you each and every one of you people out there for supporting us relentlessly everyday of the tournament.
"It was electrifying to experience your joys and happiness and energies throughout. We come out stronger and better next time. (sic)"