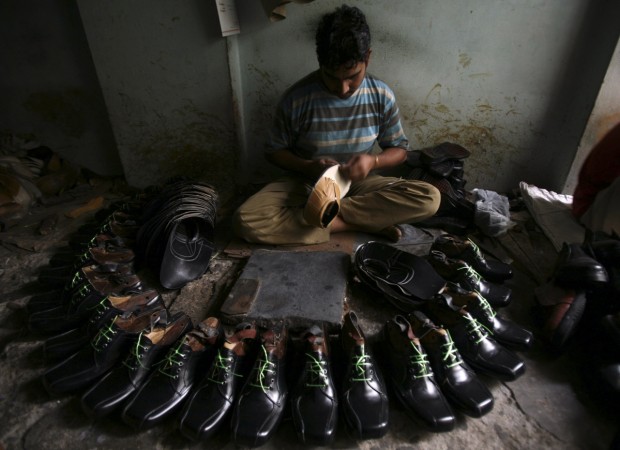 India will require 5 billion pairs of shoes in 2020, while the present demand is 2.3 billion pairs a year. The government gave this estimate in the context of the upcoming business-2-business footwear fair on August 5 at Pragati Maidan, New Delhi. Finance Minister Arun Jaitley will inaugurate the Fair.
About 263 companies, including 160 Indian companies and 103 companies from Brazil, China, Taiwan and Iran, are expected to take part in the fair. The fair will showcase items ranging from footwear, finished leather, synthetic material, footwear machinery and equipment among others.
The fair aims to reveal India's export capabilities in footwear and leather industry in a bid to project the country as an "ideal investment destination."
"The present demand in India is 2.3 billion pairs a year and it is estimated that India will need 5 billion pairs of shoes in 2020," reads a government release.
Earlier reports reveal that India had missed the leather and leather goods export target of $6.25 billion in the financial year 2015-16. The country's leather exports stood at $5.92 billion from April 2015 to March 2016, a decline of 10.11 percent from 2014-15 fiscal. The finished goods and footwear categories were the worst hit at 21 percent and 20.88 percent respectively.
India's major export destinations—which account for 60 percent of the export— include the U.S., Germany, the U.K. Italy, France, Hong Kong and Spain. India's export to foreign countries, except, the U.S., declined until January 2016, reports The Hindu.
R. Rafeeq Ahmed, Chairman, Council for Leather Exports, said the industry will grow by at least 15 percent during the financial year 2016-17.
Other apex bodies who support the leather fair are Council for Leather Exports (CLE), Central Leather Research Institute (CLRI), Indian Shoe Federation (ISF), Footwear Design and Development Institute (FDDI), Indian Footwear Components Manufacturers Association (IFCOMA) and Indian Finished Leather manufacturers' Association (IFLMEA).
The second edition of India International Footwear Fair (IIFF) will be open from 10.00 a.m. to 6 p.m. from August 5-7, 2016. The event is organised by Indian Trade Promotion Organisation and Confederation of Indian Footwear Industries.