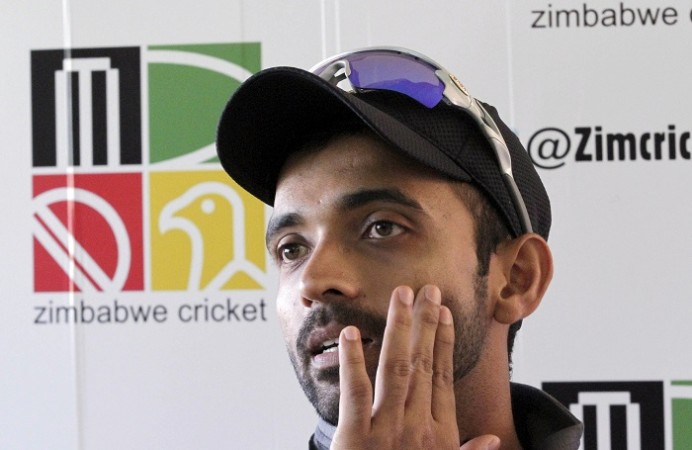 India are all set to take on Zimbabwe in the first ODI of the three-match series at the Harare Sports Club on Friday. Team India stand-in skipper Ajinkya Rahane is confident that his side will put up a good show against the hosts.
The Board of Control for Cricket in India (BCCI) selectors have sent a second-string squad for this tour resting the major players and gave youngsters a chance to prove their worth under the leadership of Rahane.
India are coming into this series after a humiliating ODI series in Bangladesh, but Rahane said that they have moved on from that and now they are looking forward to come up with a better performance than that. Rahane also stressed on the fact that they are not taking Zimbabwe lightly and they want to win the games.
"Bangladesh is in the past now for us. We're thinking about the present series and our plan will be to back our strengths and back our games, rather than looking at Zimbabwe's strengths. Give our best and play to our potential. We're here to win games. We all know that Zimbabwe is a good side," Rahane said.
"They've been playing pretty well recently and we're expecting a good series here. The boys are looking forward to the series and we're not taking Zimbabwe lightly. We're respecting them, and respecting their cricket. We've got to play good cricket.
"Zimbabwe have got a pretty balanced side. They played pretty well in Pakistan, and they've good, experienced batsmen these days. Good all-rounders and bowlers. And they're getting better day by day. So we respect them, but at the same time we'll play our own cricket," Rahane said in an interview to Espn Cricinfo.
Rahane, who opens the batting for the Rajasthan Royals in the Indian Premier League, has not yet decided whether he will come out to open the batting or not. But it is likely that he would come in at his usual no. 4 position. Murali Vijay and Robin Uthappa are likely to open the batting for India in this tour. Rahane has also been given the responsibility of leading the side and he believed that it would be a new challenge for him.
"It's a new challenge for me in my career. I'm looking forward to it. I normally visualise the situation when I play the game, whenever I get the opportunity to play. So I've brought a few ideas with me, and I've got my own style of captaincy, but I've learnt a lot from Dhoni bhai under his captaincy. So I'm looking forward to bringing this talented bunch of guys here and doing well as a captain.
"In a positive way, it's a good opportunity for all of us to express ourselves. We're taking Zimbabwe very seriously. This is a good platform to showcase our talent here, do well at the international level. Everywhere we go, we take every opponent very seriously. We want to play our game and back our strengths," Rahane added.