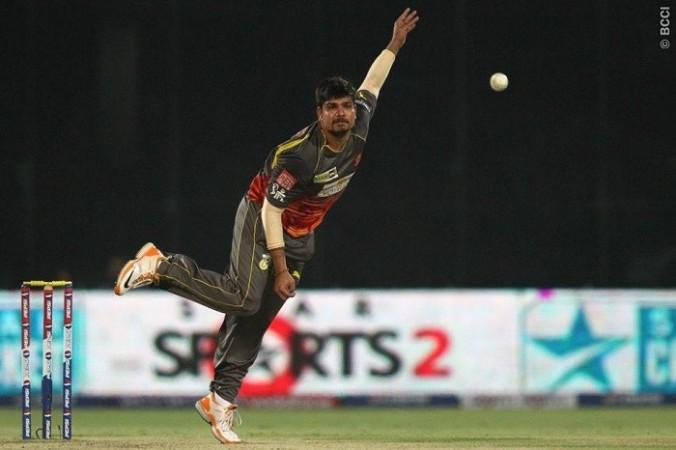 Just a day ahead of the Indian cricket team's scheduled departure for Zimbabwe, Karn Sharma received a major setback when he was ruled out of the tournament due to his finger injury.
Karn Sharma's injury was confirmed by BCCI in a media release, which stated that he has fractured his left middle finger.
"The BCCI medical team confirms that leg-spinner Karn Sharma has been ruled out of India's tour of Zimbabwe, starting on 7 July 2015, due to injury. Karn has fractured his left middle finger. There will be no replacement for him for the Zimbabwe tour," the release said.
The Indian selectors had picked a second string Indian squad for the tour of Zimbabwe, providing rest to senior cricketers such as Rohit Sharma, MS Dhoni, Virat Kolhi and Shikhar Dhawan as they have been playing cricket for about six months.
It came as a blessing in disguise for young cricketers, who got a chance to impress and 'knock at selectors' doors for future series'.
Ajinkya Rahane is leading the new-look squad, but now they have do without the services of Karn Sharma; the BCCI have not named any replacement, which means India will have only 14 players in their squad.
This leaves the Indian team with only two spinners, Harbhajan Singh and Axar Patel, to roll their arm over in Zimbabwe.
The tour of Zimbabwe could have been a perfect one for Sharma to pick up his first international wicket, for he has not taken any wicket for India in coloured clothing. He has represented India in two ODI matches against Sri Lanka late last year.
Karn Sharma has been impressing one and all with his bowling in the Indian Premier League, which might have played an important role in his selection, but as luck would have it, he will miss the Zimbabwe tour.
India are scheduled to play three ODIs and 2 T20 matches starting from 10 July in Zimbabwe.