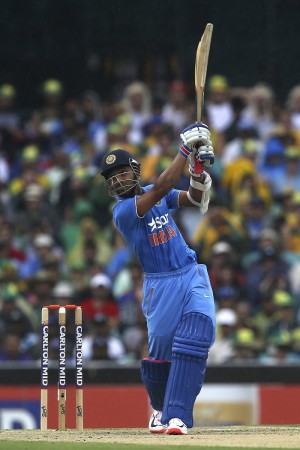 Ajinkya Rahane has firm belief in his abilities and he is aiming to do justice to his role as the captain of the Indian team for the upcoming tour of Zimbabwe.
The squad for the tour was announced on Monday and the biggest surprise came in the form of Rahane, 27, being appointed as the skipper.
However, the man himself, who had a decent showing in the ICC Cricket World Cup 2015 for the Men in Blue, has revealed that although being appointed as the skipper for the tour came as a suprprise, he isn't nervous, as he has full faith in himself and believes that he is very hardworking.
"I know how capable I am and I believe in myself. I have learned a lot from whatever cricket I have played in the last four-five years," Rahane told BCCI.tv.
"I wasn't thinking about the captaincy. I didn't know about it. It came as a surprise, but whatever domestic and international cricket I've played gave me confidence. I am a very hardworking guy. I always want to be the best in the world and I know my capabilities."
The right-handed batsman, who also plies trade with Indian Premier League side Rajasthan Royals, has a strike rate of 76.80 in the One Day Internationals (ODIs) and has scored 1593 runs, which includes two centuries, from a total of 55 ODI matches.
Rahane scored 208 runs from eight games in the World Cup this year, which also includes his hard-hitting 79 runs off 60 balls in the match against South Africa on 22 February played at the Melbourne Cricket Ground.
In the shorter format of the game, the Maharashtra lad has a whopping strike rate of 118 in the T20 Internationals.
Looking forward to the Zimbabwe tour and his role in particular, Rahane says that it is important to support the players and give them the much-needed confidence to deliver a good performance, as every international side needs to be taken seriously.
He is also happy with the selection of the team and has said the new faces in the team have earned the call-up.
"As a captain, it's important to back your players and give them confidence. It is very important to lead from the front, be positive and back your team. Whatever international side we play, we take them seriously. My motive would be to give all youngsters confidence; guys who came back, speak with them, give them confidence and motivate them.
"I think this is a good team. Guys who did well in the IPL and domestic season have got their rewards. Every player played their part, and I'm really excited. They are great team-mates and I am looking forward to joining them."
India will play a total of three ODIs and two T20s against Dav Whatmore's side in Harare. The tour will begin on 10 July and will continue until 19 July.
Team Squad for Zimbabwe Tour
Ajinkya Rahane (C), Ambati Rayudu, Manoj Twiary, Murali Vijay, Kedar Jadhav, Robin Uthappa, Manish Pandey, Harbhajan Singh, Axar Patel, Karn Sharma, Dhawal Kulkarni, Stuart Binny, Bhuvaneshwar Kumar, Sandeep Sharma and Mohit Sharma.