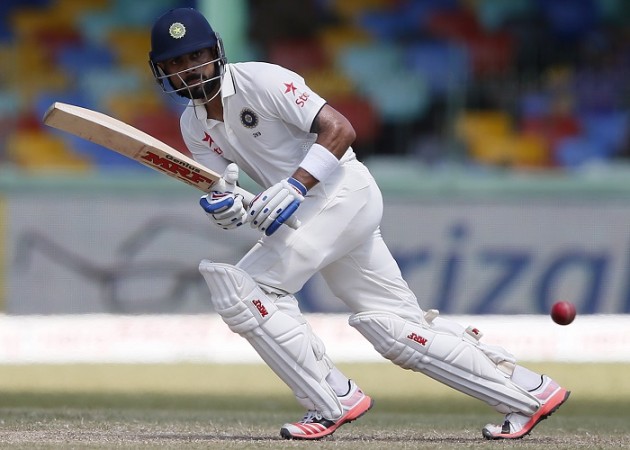 You know you're watching a special player, when the moment he walks in, and that too on day one of a Test match, the pace of the game takes a 180% turn. India were crawling around in the first session of the opening Test against the West Indies in Antigua, with Shikhar Dhawan and Cheteshwar Pujara making the WI bowlers look a lot more difficult than they were, but when Kohli came in to bat, everything changed in a hurry.
Suddenly those good lines and lengths the West Indies bowlers were bowling didn't look so good anymore; the runs began flowing like it was a one-day international match and the dominance factor firmly swung in the batting team's favour.
With India on 74/2 in the 28th over, when Pujara fell off the first over of the second session, the visitors could have easily crumbled, like they have in the past. But, Kohli, instead of playing the let's-just-block-block-block game, decided to take the attack to the opposition, without really looking like he was doing it, and with this West Indies attack still quite inexperienced, it proved to be a brilliant plan of action.
Just like that, the boundaries started to come from both ends as Dhawan looked like a different batsman, not one afraid of getting out, with India dictating the proceedings.
There were a couple of ooh moments in there -- that is always the case with aggressive batsmen who want t dominate -- but, Kohli's innings was chanceless and a delight to watch. Once he started pinging the red cherry off his willow with ease, there was little Jason Holder and his West Indies team could do.
Devendra Bishoo gave it his best, bowling nearly one-third of the overs in the day, but West Indies lacked that someone, who could wobble the ball around and create doubt in Kohli's mind. The offstump line was prevalent for much of his innings, with Shannon Gabriel, Holder and Carlos Brathwaite playing the patient game, but Kohli was in no mood to gift his wicket away.
Brathwaite only added fuel to Kohli's fire when he threw the ball back to the wicketkeeper in frustration after a strong drive from Kohli, with the India skipper having to take evasive action. That pumped Kohli up even more, and what followed were three consecutive fours, the first of them getting him to his half-century.
From there, it was Kohli, Kohli and more Kohli, with the 27-year-old, who has been in beyond-ridiculous form in limited-overs cricket, but remains far from a finished product in the most important format of the game, refusing to lose his concentration as the likes of Dhawan and Ajinkya Rahane did.
Once the final 15 overs or so came in, it was all about curbing the enthusiasm and making sure he would be there for day two to launch an assault on his first double hundred in international cricket, and there was never any doubt that Kohli would do just that, with R Ashwin, ahead of Wriddhiman Saha in the batting lineup, giving him able support at the other end.
Now, Friday is all about making sure Kohli scores a further 57 runs to get to the mark he so craves, before making sure India post an imposing total, a total which will ramp up the pressure on the West Indies batsmen, when they walk out to play their first innings.