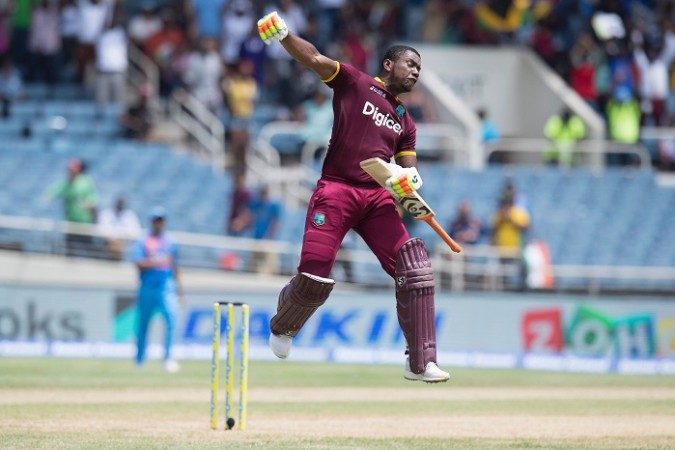 It's amazing what happens to the West Indies when the format of the game of cricket changes to the shortest one, with only 20 overs each allowed per side. It's almost as if a certain magical power surges through them, a power that fills them with confidence and the ability to make a mockery out of the opposition.
That was the case, yet again, as the World T20 champions absolutely battered India in the one-off T20, despite Virat Kohli's team posting a total of 190 in their 20 overs.
Evin Lewis decided to make that chase look like the easiest possible one anyone could have possibly set, by battering the India bowlers to submission.
The West Indies opener finished on an unbeaten 125 from just 62 balls – IPL scouts, were you watching? – with his innings at Sabina Park in Jamaica filled with 12 sixes and six fours.
Chris Gayle, back in West Indies colours, and Marlon Samuels contributed 18 and 36 to the total, but it was the Evin Lewis show all the way.
Lewis took a particular liking to the spinners, with R Ashwin and Ravindra Jadeja conceding nine sixes between them, while also giving away a combined 80 runs in just 7.3 overs.
That doesn't mean the fast bowlers fared too well. Mohammed Shami was India's most expensive bowler, conceding 46 runs in three overs, with only Bhuvneshwar Kumar – how great a bowler he is turning out to be – able to leave Sabina Park with a bit of pride, after giving away just 27 runs in his four, albeit without a wicket.
India will be kicking themselves for only getting 190 on the board after being put in by the West Indies captain Carlos Brathwaite, because when Kohli and Shikhar Dhawan gave the visitors a searing start, it looked like that total might finish well beyond the 200-run mark.
Kohli (39, 22b, 7x4, 1x6) and Dhawan (23, 12b, 5x4) set the tone for their partnership from the very first over, as the usually-hard-to-hit Samuel Badree conceded 13 runs, which included three boundaries.
The momentum kept flowing from there, with Kohli and Dhawan adding 64 runs in just 5.3 overs, before the India captain holed out to Sunil Narine off Kesrick Williams. Dhawan was then unfortunately run out, with Rishabh Pant, playing his first game on the tour, putting his partner in trouble with a bit of yes-no, yes-no.
This will not be a game that Pant will want to remember too fondly, because, while he ended up with 38 (35b, 2x4, 1x6), the timing and composure was missing. Pant and Dinesh Karthik (48, 29b, 5x4, 3x6) added 86 in 9.5 overs, and while that isn't too bad – and it was only that because of Karthik's innings – the momentum flowed out by then, and India ended up a fair few runs short.