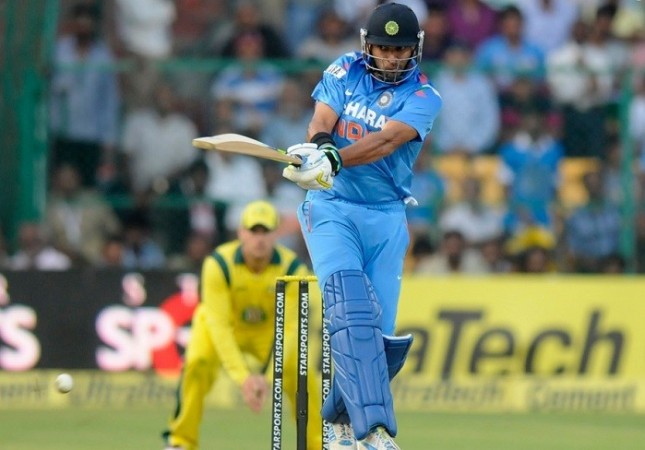 Yuvraj Singh made a stirring comeback to the India side in early October, scoring a matchwinning 77 to help the hosts get the better of Australia in the one-off T20. Everything pointed towards Yuvraj, prim and fit after battling a life-threatening disease, just carrying on from that brilliant knock and reigniting the Yuvraj of old - well not so old - of the 2011 World Cup.
However, since that innings, things have not gone so well for the powerful southpaw - the runs have seriously dried up, with each inning only emphasising just how much Yuvraj is struggling with the bat in his hand.
He had a forgettable one-day series against Australia, a series in which big runs were very much the norm rather than the exception.
Mitchell Johnson's pace and short-pitch barrage troubled the left-hander considerably, raising doubts over Yuvraj's capabilities in the international level yet again.
The three-match ODI series against the West Indies, a side seriously struggling for confidence after being bashed by India in the Tests, was seen as the perfect opportunity to banish those doubts, emphatically, but that has been far from the case.
Yuvraj scratched his way to an unbeaten 16 in a match that was already won thanks to half-centuries Virat Kohli and Rohit Sharma, before getting out in the second one-dayer, which India lost by two wickets, for 29 from a rather unconvincing 49 deliveries.
A few eyebrows were raised -- even if it was on expected lines -- when Yuvraj was picked for the one-day series in South Africa, but India skipper MS Dhoni gave his backing to the talented 31-year-old.
"Yuvi is not having a really good time out in the middle but it happens to any player," Dhoni said. "He has struggled a bit in the couple of games but we want him to get back to form. He is a very aggressive batsman who can be really destructive when in form.
"He is a very experienced player and the stats show that he is a match-winner. We want him to get some runs under his belt and regain his confidence so that the pressure is off his back."
Yuvraj was sent in at No.4 in the first two ODIs against the West Indies, after Suresh Raina, another man who has failed to shine in the last few games, was given that slot in the Australia series. Sending Yuvraj up a level is obviously to try and help him regain his form, but so far it hasn't quite gone according to plan - with India again relying on the prowess of their top three - Shikhar Dhawan, Sharma and Kohli - before looking to Dhoni to finish off the innings, like only he can.
"We are trying different combinations to see which works better," Dhoni said. "Yuvi has got a lot of his runs batting at No. 4, but he has been a bit off key. In the Australian series, he was not getting too much time to settle down. If you look at the stats, he was getting out quite early. Hence, we thought of sending him at No.4 in this series. Raina has done well at No.5 and he is always an option for the No.4 spot."
Yuvraj will have one final opportunity to let his bat do the talking, before the start of the South Africa series, in the final one-day international in Kanpur, with India needing a win to clinch the three-match series.
"It's a day game and there will be no dew factor," Dhoni said of the 9 am IST start. "But we need to take positives from each game. In this game [the second ODI], I feel the bowlers did an extremely remarkable job in taking the game to the last over."