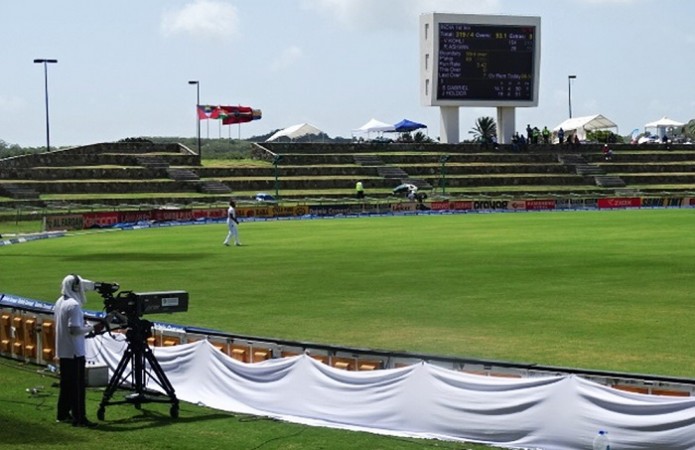 There might have been bright sunshine over the past three of days at the Queen's Park Oval in Port of Spain, but it was still not enough to see any kind of play as the final four days of the fourth Test match between India and the West Indies was called off.
A wet outfield that just would not dry up in time meant India are no longer the No.1 Test team in the world, with that honour now going to Pakistan, whose success in England has just seen another layer of wonderfulness being added.
India went into the fourth Test as the No.1 ranked team in the world, after Australia's debacle in Sri Lanka, but the only way they were going to stay at the top was by defeating West Indies in Trinidad and winning the series 3-0.
However, only 22 overs were possible in the entire fourth Test.
It was made all the more ridiculous by the fact that the last two-three days had very little, if any at all, rain with plenty of sunshine coming through. However, such is the surface at the Queen's Park Oval that, despite all that sunshine, the outfield refused to dry, making it non-playable for the players.
After days two, three and four were called off without a single ball being bowled, to go with the final two sessions that went missing on day one, there was slight hope of some sort of action on the final day, especially after the stumps were placed on the pitch.
However, once the umpires walked out to inspect the outfield, it became clear that there would be no play possible on Monday either, because the shoes were going well into the surface, pointing to the fact that the outfield was still quite wet.
Had there play been possible on the final day, maybe we could have had some excitement if both the teams had decided to declare their first innings to keep the match interesting. But all that became academic, when the umpired announced that play would not be possible at around 9.30 a.m. local time (7 p.m. IST), with it ending the Test match in a draw.
As a result, India lose their No.1 ranking without even having a proper opportunity to defend it, even if they leave the Caribbean with a 2-0 series victory. Virat Kohli, the captain, however, will know that his team will have a good chance of regaining that No.1 Test ranking considering they are scheduled to play 13 Test matches at home.
Before that, however, there is a two-match T20 series against the West Indies in Florida. The first will be played on Saturday, with the second match scheduled on Sunday.