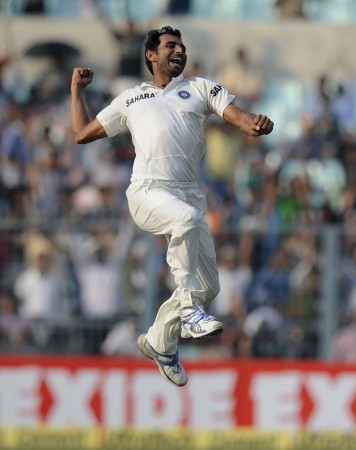 The maximum number of innings remaining in Sachin Tendulkar's legendary career is now down to two.
After being setup by the batsmen - read Rohit Sharma and R Ashwin - for an innings victory, the India bowlers, led by the tearaway reverse-swinging machine who goes by the name of Mohammed Shami, stepped up in some style to seal an innings and 51-run victory over the West Indies.
Staring at a big 219-run deficit, the onus was on the West Indies batsmen to buckle down, frustrate and eventually create panic stations amongst the Indian bowlers.
However, after a sound start, wickets tumbled quicker than a runaway train with the West Indies rolled over for just 168 on the third day of the first Test at the Eden Gardens, with Shami picking up five wickets in the second innings to finish with stunning match figures of nine for 118 on his debut.
Rohit Sharma, in a match for the debutants, and R Ashwin, who also picked up five wickets of his own in the match, batted wonderfully well to give India a big lead, as the hosts finished their first innings on 453 all out.
Chris Gayle kicked Windies' second innings off with a typically flying start - in Test match terms, not Gayle's T20 standards. The left-handed tyro actually scored the first 33 runs for the West Indies, before throwing his wicket away.
Gayle (33, 35b, 7x4), looking in prime form with a few wonderful boundaries through the off side, tried to pull a short delivery from Bhuvneshwar Kumar, but only managed to top edge it to Virat Kohli at midwicket.
Kieran Powell, at the other end, was struggling to get going, and took all of 31 balls to get off the mark; but once he did, he looked a lot fluent and at home.
Powell, though, was lucky to survive early on, with Kumar dropping an easy enough catch off Pragyan Ojha, who bowled a nice little spell.
The Indian spinners were getting some turn, but did not threaten Powell and Darren Bravo enough, as the two left-handers put on 68 runs to keep WI very much in the game.
Sachin Tendulkar, to the biggest cheer from the crowd, was brought on to try and break the partnership, and nearly did so with an lbw appeal on Powell which could have easily gone his way.
However, it was the man of the moment Ashwin, who did break the partnership, trapping Powell (36, 83b, 5x4) in front of the wicket off a ball that kept a little low.
Mohammed Shami then sent Marlon Samuels (4), top scorer in the first innings, packing, courtesy a dodgy lbw decision.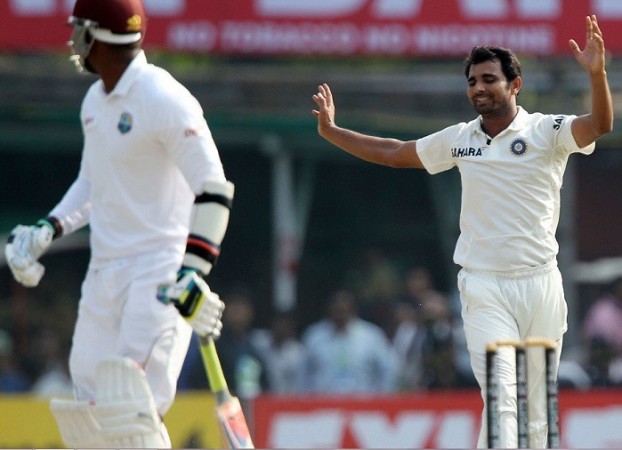 Right after Tea, Bravo (37, 78b, 4x4) attempted to cut Ashwin from the rough, but only found Rohit Sharma at point, who held on nicely.
Denesh Ramdin then did not hang around too long either, as Shami, reverse-swinging the ball prodigiously, induced a bat-pad with Murali Vijay gobbling up the catch at short leg.
Darren Sammy, curbing his attacking instincts, stuck for a while with Chanderpaul (31 n.o., 60b, 2x4), but then came the unstoppable Shami with a reverse-swinging spell very rarely seen from an Indian bowler.
Shami - who picked up four wickets in the first innings -- forced the ball through the gate of Sammy (8) to smash the middle stump to smithereens, before a couple of balls later, the same fate befell on Shane Shillingford.
Another stunning in-swinger, this time a yorker to boot, struck Veerasammy Permaul on his pads. Kettleborough, for some reason, did not raise his finger, but it mattered little as an alert MS Dhoni, seeing the batsman out of his ground, ran him out.
From 125 for five it was now 152 for eight in the blink of an eye, as West Indies stared down the fully loaded barrel still trailing by 67 runs.
Tino Best came and did all the talking, literally and not with the bat, holing out at midwicket off Ashwin (three for 46).
Shami, fittingly, finished things off with extra panache, crashing the stumps of Sheldon Cottrell for his five-for and sixth bowled wicket in the match.
Earlier, Sharma and Ashwin came into bat with one thought in their minds - bat WI out of the game.
For over an hour, the duo went about doing just that, putting on a quite special partnership to give India a really sizeable lead of 219, as the hosts finished their first innings on 453 all out at the Eden Gardens.
Starting on an overnight score of 354 for six, with Sharma (177, 304b, 23x4, 1x6) and Ashwin (124, 210b, 11x4) on a partnership of 198, the two allied for a further 82 runs in the first session to finish their association at a brilliant 280.
Sharma, so composed with the bat on the second day, added 50 more runs to his personal tally, but fell marginally short of what would have been an incredible debut double hundred, with umpire Richard Kettleborough giving the right-hander out lbw off Veerasammy Permaul.
The India batsman decided to not offer a shot to a ball from Permaul that pitched around off stump, before turning slightly away. Kettleborough, though, thought it would hit the stumps and raised that finger, with India, for the third time this innings left to rue the fact that there was no DRS - but, then they only have themselves to blame for not backing the Decision Review System.
That ended a stunning partnership for the seventh wicket, the highest ever against any side.
So often, following a huge alliance, once one batsman falls, you invariably see the other following suit soon enough, and that again proved to be the case as Ashwin, who completed his second Test hundred - both incidentally against WI -- in the fourth over of the day, saw his wonderful innings brought to an end by Shillingford, who deservedly grabbed a five-for.
Shillingford, you have got to tip your hat to the off-spinner, was relentless despite bowling over 50 overs in the innings, ripping every single ball, flighting, fighting and never deflating as the West Indies, courtesy their premier spinner pressed and probed at every available opportunity.
Soon after that fairly lucky lbw wicket of Sharma, Shillingford castled Ashwin as the India batsman tried to take the attack to his fellow off-spinner.
India were on 444 at that point, and it didn't take too long before the hosts were bowled out by the West Indies.
Shillingford (six for 167) picked up his sixth of the innings, as the spinner induced an inside edge from Bhuvneshwar Kumar which rebounded off the pad and looped towards Chris Gayle, who completed a smart low catch at first slip.
Mohammed Shami was the last man out as an attempted hoick while marching down the stumps only resulted in an easy stumping for Denesh Ramdin off Permaul (two for 67).
India's first innings total proved to be more than enough, as the bowlers came to the fore to give India a dominating victory. It is now onto Mumbai, for Tendulkar's 200th and final Test starting Thursday.