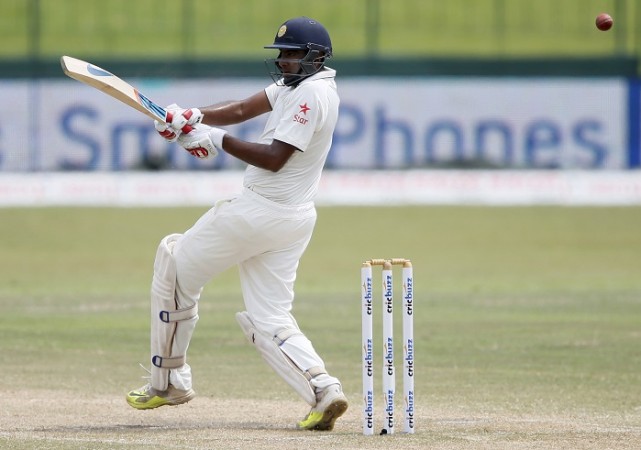 It was almost as if India decided to do a West Indies. With the top order failing to produce the goods after some good bowling from the home team, R Ashwin and Wriddhiman Saha put on a crucial partnership for the sixth wicket to ensure India would not be smack-bang behind the eight ball after day one of the third Test in St. Lucia.
With Virat Kohli making several changes to the team, including bringing in Rohit Sharma for Cheteshwar Pujara, India would have wanted to take the early advantage in the Test match after being put into bat, but it was the West Indies who took control early on, picking up three wickets in the first session.
Kohli, who came in at No.3, was one of those batsmen to go, and while KL Rahul struck a quick half-century, a poor shot from the right-hander had him walking back to the pavilion, with Shikhar Dhawan going early after strangling one down the legside to Shannon Gabriel.
The wicket of the morning, though, was Alzarri Joseph's, with the 19-year-old debutant picking up the prized wicket of Kohli, who got an outside edge through to first slip after the ball took off from a short of a length.
Ajinkya Rahane stuck around for a while, but could not make enough of an impact, while the most predictable of the opening day's play was Rohit falling cheaply, caught behind off Joseph.
Then came the crucial partnership between Ashwin (75 n.o., 190b, 4x4) and Saha (46 n.o., 122b, 4x4), with the duo putting on 108 runs together to pull India out of seriously troubled waters.
This was a proper Test match opening day for India, with the emphasis on the "Test". It became clear, from the first few overs, that this was not going to be one of those big innings for the Indians, where they get off to a solid start and then push on from there to march to a big first innings total without too much trouble.
When Dhawan (1, 4b) fell in the third over, there were a few eyebrows raised as captain Kohli (3, 8b) walked in, even though Rohit was slated to bat at No.3 in the official team sheet. That would have been a positive move had the right-hander made his mark, but after a few of testing deliveries from Joseph and Gabriel, the former got his man with a wonderful ball that rose up to take the top half of the outside edge.
India needed a partnership, and they kind of got one, worth 58 between Rahul (50, 65b, 6x4) and Rahane (35, 133b, 4x4). However, Rahul threw his wicket away, lofting the ball to short fine off off-spinner Roston Chase to leave India on 87/3 at Lunch.
Rohit (9, 23b, 2x4) failed to take advantage of another Test match opportunity, again, before Rahane fell in the 50th over of the day, giving Chase, the hero of the second game for the West Indies, his second wicket.
West Indies would have sensed a way through the India lineup from there, even with Ravindra Jadeja, in for Amit Mishra, to come at No.8, but Ashwin and Saha ensured there would be no more hiccups for the day with an unbeaten partnership, that keeps this match evenly poised after day one.