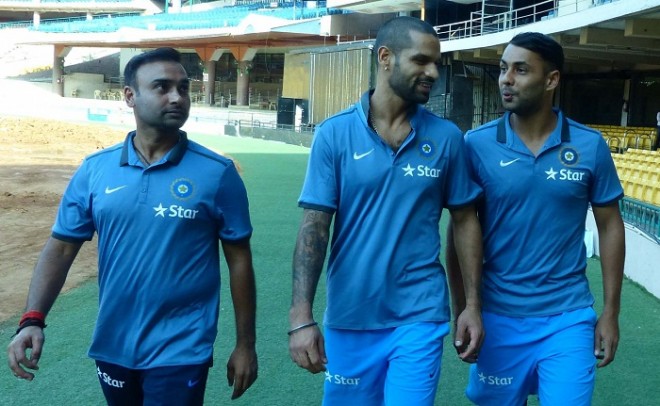 India played some brilliant cricket to defeat West Indies in the first Test match in Antigua to take 1-0 lead in the four-match series. India will be keen to increase their lead to 2-0 as the two teams prepare for the second Test, which takes shape on Saturday.
Leg spinner Amit Mishra might not have been able to take many wickets in the first Test, but he managed to score lower down the order. Mishra scored 53 runs and took three wickets in the first Test, but it was Ravichandran Ashwin who bagged the spotlight with his incredible century (first innings) and a seven-wicket haul in the second innings.
Other players such as Mohammed Shami, Umesh Yadav also played an important hand in the win. Mishra, however, does not want to take it easy after that victory, but rather continue such quality of cricket in the remainder of the series.
"We feel highly motivated after that win. It was a collective effort and we did well all around, in batting, bowling, fielding and holding catches, everywhere. But we need to forget all that now and totally concentrate on the next match. For us the effort now is in moving on from that win and yet continuing to do well in the coming match and remainder of the series," Press Trust of India quoted Mishra as saying.
Mishra bowled well in the first Test, but he was not that lucky to pick up wickets. The leggie created some pressure on the West Indies batsmen, resulting in wickets from the other end. Mishra hopes to be bit lucky in the second Test, and earn some wickets.
"All we can do is try and bowl well, and that is what I am trying to do. Getting wickets is not in your hands. Sometimes partnerships build up and you have to create pressure from either end. So I tried doing that from one end, while the others were picking wickets from the other end, fast bowlers in the first innings and then Ashwin in the second. Hopefully I can take a few more wickets in the next match," Mishra said.
Not only Mishra, all other players will hope to have a great second Test match, and help the visitors take 2-0 lead in the series. But it is not going to be a walk in the park as West Indies are expected to come hard at India in St. Kitts.