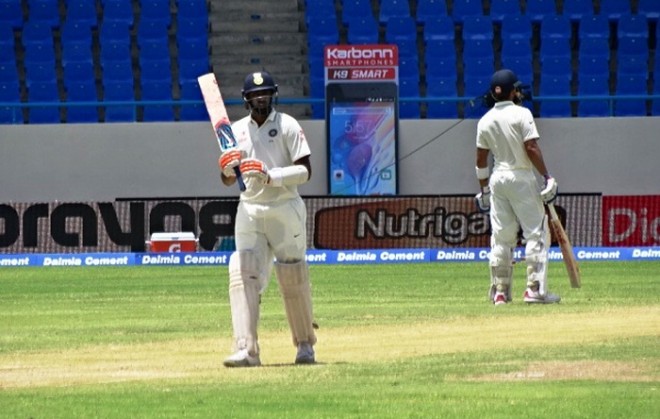 It was another day of attrition, with runs hard to come by and wickets as well. R Ashwin, though, struck his fourth century in Test match cricket, all against the West Indies, while Wriddhiman Saha notched his first, but the home team are right there in this not-quite-forging-ahead battle, after a decent show with their own willow in the first innings at stumps on day two of the third Test match.
The wicket at St. Lucia is said to be the best cricket wicket in the Caribbean, but the results on this ground suggest draw is the most likely result. After two days of action, it is difficult to predict any other result this time around as well, after India finished their first innings on 353 all out in a 129.4 overs, with the West Indies reply at 107/1 in 47 overs – 246 runs behind India's total – at the end of day two at the Darren Sammy National Cricket Stadium.
Beginning the day on 234/5, with Ashwin and Saha at the crease, the question was who would win the opening hour of day two. India, while not pushing home their advantage by scoring runs at a canter, did not lose any wickets, which put them in a position to dictate the match a bit more, but while Ashwin (118, 297b, 6x4, 1x6) and Saha (104, 227b, 13x4) both completed their hundreds, that dominance factor that has followed Virat Kohli's men throughout this Test series was missing.
That meant West Indies stayed very much in the game, even after India's total went over the 300-run mark, before ending up just past 350. With the ball not doing enough to trouble the batsmen – the pace isn't quite there, and while there was early swing for Bhuvneshwar Kumar, there just wasn't enough demons in the wicket to really trouble the West Indies batsmen – the India bowlers toiled to little effect, bowling nearly 50 overs without being able to rack up a single wicket to their name.
Even Mohammed Shami, who has been India's most impressive fast bowler, could not quite worry the West Indies openers often enough, with the only wicket of the West Indies first innings so far, coming off a run out, which pretty much summed up the situation.
Johnson (23, 75b, 2x4) was that batsman to get run out, with Darren Bravo (16 n.o., 66b, 2x4) then coming in and staying with Kraigg Brathwaite (53 n.o., 143b, 6x4) right till the end of day two.
The India bowlers would have had a long day ahead of them on day three, but stead rain in the morning and thereafter meant no play was possible, with the match moving ever closer to a rather tame draw.