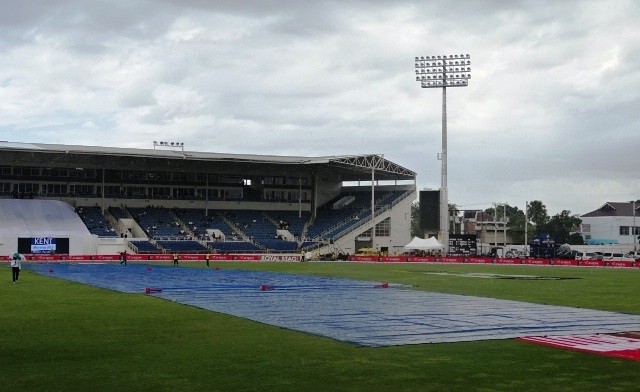 Day 4 proved to be a bit of a dampener on India's hopes of winning the second Test match, and now Virat Kohli and co. will hope the sun comes out shining long enough for the visiting team to corner some glory on the final day against the West Indies in Jamaica.
India were criticised for the slow approach to their batting in their first innings, and while they reached 500/9 before declaring, the fact that they took over 171 overs to do so will be haunting them now. What should have been a foregone conclusion of a victory has now turned into "will India get enough overs in to fashion a win" situation.
The big lead of 304 that India started with now looks redundant, with the West Indies tottering on 48/4 from 15.5 overs, but the only way Kohli and his side can manufacture a win is by rain staying away.
Only those 95 balls were bowled on Tuesday, with rain refusing to take a break long enough for more play to be possible. There is more wet weather predicted on Wednesday, the final day of the Test match, but, fortunately for India, the weather is not expected to be as bad as on Tuesday.
The precipitation percentage for Wednesday is at around 20% -- that comes down to 15% as the day wears on – with scattered thunderstorms predicted throughout the day, according to Weather.com and Timeanddate.com.
As long as really heavy rain does not fall for a prolonged period of time, like it did in the afternoon on Tuesday, causing the outfield to stay wet, we should get enough play in for a result to be possible.
A total of 98.1 is scheduled to be bowled on Day 5, which will begin early – 9.30 a.m. local time (8 p.m. IST) – and if India can get half of those overs in, they will be confident of picking up a victory.
The weather in Kingston is predicted to be cloudy throughout, but the rain factor is considerably less, and while there is a chance of it being a stop-start day again, owing to the scattered thunderstorms, India will be confident of getting enough of an opportunity to take a 2-0 lead in the series.