The fever and the anticipation reached a crescendo as Sachin Tendulkar walked into bat, on 38 not out, with Cheteshwar Pujara.
With India starting the day on 157 for two, trailing the West Indies, who were bowled out for 182 on the first day in Mumbai, by 25 runs, it took Tendulkar four balls to get on strike for the first time in the day.
A rock-solid forward defensive as everyone held their breath, and a couple of deliveries after that in the second over, and Tendulkar was off the mark for the day.
A beautiful cover drive for four, which was followed in the next ball by a sweep down to fine-leg foranother boundary as Tendulkar cranked it up on the 24th anniversary of his Test debut.
The hope is still very much alive.
That hope was nearly vanquished by Tino Best, when a ball reared up and whistled past Tendulkar's outside edge. The entire West Indies team went up in appeal, but umpire Richard Kettleborough kept his cool and gave it not out.
Replays also suggested there was no edge, with Tendulkar's reaction immediately after the missed shot also revealing it probably was not out.
A bit of "conversation" between Tendulkar and Best followed, all in good humour of course, as Sachin explained to the fast bowler he had not nicked it.
A short-pitch delivery and some banter from Best followed, before the best shot of them all -- the straight drive brought the Little Master his half-century in just 94 balls with nine fours included.
Halfway there, another half to go - well 48 actually because he went to 52 with the crisp boundary.
A nice flick to square-leg for a double from Tendulkar and India went into the lead, moving to 184 for two.
Pujara, remember him -- he is playing at the other end! -- also looking as comfortable as ever, added a nice straight drive for a boundary of his own, moving to within four runs of a half-century as Tendulkar nodded his head in approval. India 196 for two in 42.1 overs, with Sachin on 63 courtesy a poetic back-foot punch through the offside.
A couple of overs later, India moved to 201 for two after 44 overs with Pujara then completing his half-century in the 45th, bowled by Shannon Gabriel, with a single to the off-side. Nice half-ton from the right-hander, who just keeps getting better and better in Test match cricket.
That over was finished off by Tendulkar with a boundary straight down the ground, moving him to 71.
India looking serene, easing to 216 for two in 47 overs, a lead of 34, at drinks in the first session of the second day. Tendulkar on 71 from just 115 balls with Pujara looking pretty good as well on 58 (85b).
It was not to be, just not to be, however as Tendulkar fell to Narsingh Deonarine, of all people for 74, 26 runs short of a hundred.
Tendulkar edged one to Sammy while attempting a cut shot and following the wicket was just stunned silence at the Wankhede, when previously it would have been the loudest area in Mumbai.
It took a while, and as Tendulkar walked back to the pavilion, for what could very well be the final time in his unbelievable career, a standing ovation like no other was given.
Tendulkar acknowledged the cheers, removing his helmet and raising his bat as a thank you for all the support he has received over the past 24 years.
Oh dear, what a tragedy.
The score was 221 for three when Sachin walked back, and Virat Kohli started his innings with a crisp boundary through the offside, leaving India on 231 for three in 49 overs.
Kohli and Pujara did not seem to be letting the overwhelming sinking feeling that the rest of the India fans are experiencing, bother them, taking India to 249 for three in 53 overs, before Shane Shillingford seemed to dismiss latter.
Kieran Powell dived forward at forward short leg to snare Pujara with Shillingford celebrating his third wicket of the innings - or so they thought.
Umpire Nigel Llong wanted to take a look at the low catch with the third umpire Vineet Kulkarni giving it not out, when replays suggested Powell had his fingers under the ball.
Strange decision that, and the West Indies will be incensed by it.
India 257 for three after 54 overs, with Pujara, luckily, still batting on 77 and Kohli on 19.
The right-handed duo, the future of Indian cricket, as the greatest ever walked into the sunset, then eased India to Lunch on 282 for three in 60 overs for a lead of 100 runs. As much as 125 runs were scored in that session, with Kohli batting on 35 from 33 balls and Pujara just 15 runs short of a hundred on 85 (126b, 10x4).
Kohli, in a hurry and looking like he is playing in a one-dayer, stormed to his half-century in just 53 balls - his 7th in Test cricket -- as India breached the 300-run mark in the 64th over.
The elegant right-hander was given a life a couple of overs later, as Kohli found an edge while trying to cut Shillingford, with Denesh Ramdin unable to hang on - It was a difficult chance and would have been a brilliant catch had it stuck. India 307 for three after 66 overs.
Pujara inching ever closer to his fifth hundred in Test cricket, just four short on 96 after 69 overs with India on 310 for three, for a lead of 128 runs.
Kohli (57, 78b, 5x4), who went into a bit of a shell after reaching his half-century, was dismissed by the ever-impressive Shillingford, who found the outside edge of the India batsman with Sammy taking the catch comfortably at first slip.
That brings Rohit Sharma to the crease, looking to carry on from the stunning 177 he scored on his debut in the first Test in Kolkata. India on 315 for four in 69.4 over.
Pujara, unflappable as ever, eased to his century - 100 in 146 balls -- with a sweep down to deep backward square leg, as India, on 328 for four, led by 146 runs.
India easing their way to a big lead, reaching 350 for four after 75 overs, with Pujara batting on 108 (156b, 12x4) and Rohit Sharma unbeaten on 23 in 16 balls.
Pujara (113, 167b, 12x4), though, was picked up Shillingford, who else, with the India batsman, popping one back to the bowler. India 354 for five in 77.5 overs at the fall of the wicket.
A brilliant innings from Pujara, the kind you now expect with unerring regularity. He seemed to just struggle after his hundred, though, as Shillingford kept probing and eventually getting his due reward.
India 363 for five after 80 overs, with Shillingford's figures reading 32-4-141-4. Rohit batting on 30, Dhoni just in on 2.
The second new ball was taken and it did the trick, with Tino Best dismissing MS Dhoni (4), who edged one to the everpresent Sammy at slips. India 366 for six after 81 overs.
With Ashwin arriving and Rohit already at the crease, it reunites the partnership that took the game away from the West Indies in the first Test. And Ashwin announced himself on the Windies bowling nicely, with a six over third man. India on 375 for six after 82 overs.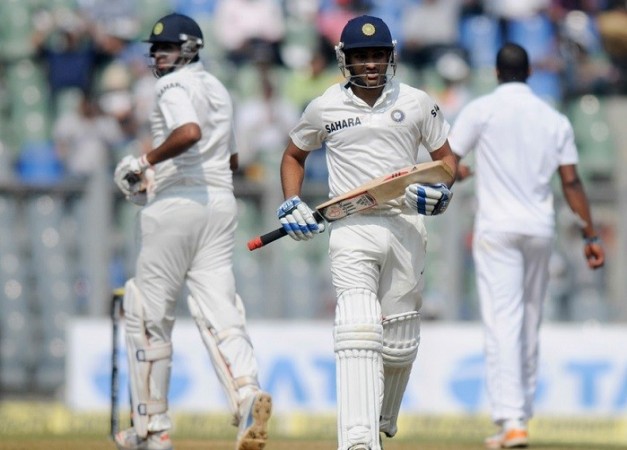 India crossed the 400-run mark in the 86th over with Rohit and Ashwin looking quite comfortable in the middle - Ashwin especially scoring some delightful boundaries - a flick through the onside, in particular, quite memorable.
India 407 for six after over 87, with Ashwin and Rohit batting on 30 and 42 respectively.
Ashwin (30, 32b, 4x4, 1x6) scored quite a few runs with the pull shot, but it also proved to be his demise as Shannon Gabriel induced a top edge with the bowler himself completing the catch. India 409/7 in 88.2 overs.
Tea was taken at the end of the over with India on 413 for seven, scoring 131 runs in the session, but also losing four wickets, for an overall lead of 231. Sharma batting on 44 with Bhuvneshwar Kumar (4) at the other end.
The ball just seems to be following Sammy as the WI skipper picked up his fifth catch of the innings, with Shillingford getting the wicket of Bhuvneshwar Kumar (4). India 414 for eight, with Rohit (45 n.o.) running out of partners, as Shillingford gets his second straight five-for against India.
Pragyan Ojha lasts only a couple of deliveries, with Kieran Powell's brilliant direct hit sending him back to the dressing room. India 415 for nine, a lead of 233.
With the need to farm the strike, Rohit faced the entire 92nd over from Shillingford, before taking a single of the last ball to complete his fifty - not a bad start to his career at all, following up that epic 177 wonderfully well. India 419/9 in 92 overs.
India's lead bulged to 250 courtesy some intelligent batting from Rohit Sharma, who just kept the strike away from No. 11 Mohammed Shami, frustrating the West Indies bowlers as India reached 433 for nine after 95 overs.
Sharma was just revelling in his home ground, and a six and a delightful cover drive was soon unfurled as India just kept adding the runs, with the score reading 456 for nine after 99 overs - Rohit on 85 and an overall lead of 273.
The next delivery, Rohit's stay should have ended on 85, but Shillingford bowled a huge no-ball, nullifying the catch at long-on. Rohit survived and so did India's first innings which moved to 458 for 9 in 100 overs.
The 45th run of the last-wicket partnership was Shami's first run in his tenth ball, showing just how well Sharma batted with the last man. A classy flicked boundary, followed by one over slips in the Tino Best over from Sharma and India zoomed to 469 for six in 101 overs - lead of 287, with Sharma on 95, five short of a second consecutive hundred.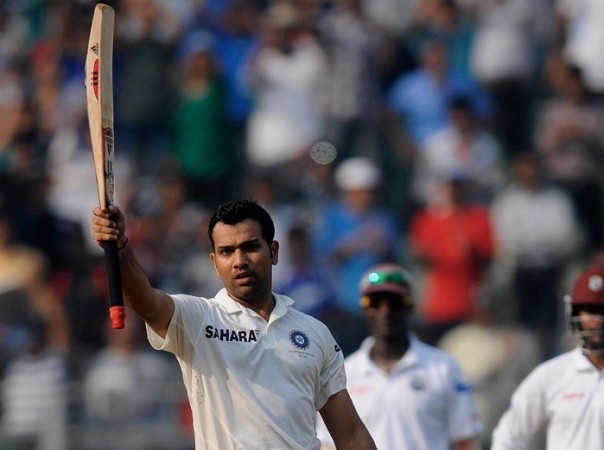 As calm as they come, this version Rohit Sharma is, easily pacing his way to the remaining five runs to complete his second hundred - with a six -- in only his second Test match. Rohit reached his century in just 117 balls with ten boundaries and three sixes. India's score 479 for nine in 105 overs.
With Sharma reaching his landmark, Shami cut loose, smashing a couple of boundaries to take India's lead past 300. The score now 487 for nine for a big lead of 305.
Another attempt at a boundary and Shami holed out to Tino Best off Narsingh Deonarine as India finally, at last folded for 495 in 107.5 overs for a lead of 313. Rohit Sharma finishing unbeaten on 111 (127b, 11x4, 3x6), with Shami (11, 29b, 2x4) contributing nicely in a last-wicket partnership of 80 from 17.4 overs.
Over to the West Indies batsman now to at least, at the very least, avoid another innings defeat. A tall order it is; let's see if the openers can see off the final few overs remaining in the day.
The first three of overs were negotiated comfortably enough with the openers scoring 12 runs from the first 18 deliveries.
Ashwin was brought in in just the fifth over, and got some turn immediately, which doesn't bode too well for the WI batsmen. West Indies on 14/0 after five overs.
Gayle very circumspect in the first few overs with the day winding down. WI 15/0 after six overs, with eight overs remaining on the second day.
Needing to see out the day, Powell threw his wicket away, holing out to Mohammed Shami at long-off with Ashwin opening up the possible floodgates. WI 15/1 in 6.2 overs.
Tino Best, the pantomime villain of the India innings, comes in as the nightwatchman with Pragyan Ojha making it spin at both ends. WI 17/1 after seven overs, with 7 remaining.
Best (9, 17b, 2x4) is always entertaining, and there were a couple of boundaries but also the wicket, with Ojha rapping him on the pads and Nigel Llong rising that finger. WI 28 for two from 9.4 overs.
The nightwatchman plan did not work and Darren Bravo comes in looking to see off the final couple of overs.
Stumps came, but not the way West Indies wanted with Ashwin coming around the wicket and dismissing Darren Bravo, who edged one straight to Murali Vijay at slips. West Indies closing on 43 for three in 12.2 overs, trailing by a huge 270 runs.
An emotional day it has been, with Sachin Tendulkar coming dreadfully close to a smashing hundred in what is starting to look like his final innings ever. Cheteshwar Pujara and Rohit Sharma cracked sparkling centuries to put India firmly in the driver's seat.
With the pitch turning and the India spinners in prime form, it was going to be a difficult time for West Indies in their second innings, and the first 12 overs or so has only emphasised that belief.
Onto the third day then, and India will target another innings victory, on quite possibly Tendulkar's last day of Test match cricket.