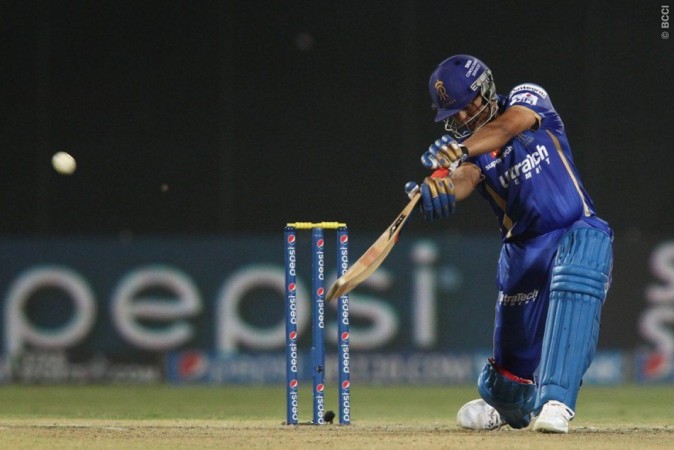 Naman Ojha, Cheteshwar Pujara and Karun Nair – two of the three will play the third Test against Sri Lanka, and one will miss out, with the player warming the benches likely to also lose his chance at making his debut for India in Test cricket.
That is because Pujara looks locked in for the opening position alongside KL Rahul, after Shikhar Dhawan and Murali Vijay were ruled out of the rest of the series through hand and hamstring injuries respectively.
Virat Kohli, the India Test captain, speaking after the second Test win over Sri Lanka in Colombo, pretty much confirmed Pujara will finally get an opportunity to make his mark in this series.
"Pujara is pretty solid, and with the new ball, he has opened in the subcontinent before," Kohli said. "If we had three-four Tests, then you have to think of a proper opener. I feel Pujara has done the job in the past, and we are very confident he will be able to do the job in the next game."
The final Test match, which starts on Friday, should give Pujara the chance to show he is still the ridiculous run-getter in Test cricket he was a couple of years back. As an opener, Pujara is not too shoddy, having impressed in home Test matches against England and Australia.
However, he remains a stand-in opener, and the only thing Pujara can do is make a couple of big scores and hope that is enough to give him a place in the playing XI in the South Africa Test series in November-December.
While Pujara will sleep on Thursday night knowing he will play the third and final Test match against Sri Lanka, the same might not be apparent for Ojha and Karun Nair.
Karun Nair, brought in after an impressive batting performance against South Africa A in an unofficial Test match, is not an opening batsman, so the only way he will make his international debut is if Kohli and Ravi Shastri decide Rahul can do the job as wicketkeeper for this one remaining Test match or if they think four bowlers are enough, with Stuart Binny then making way – considering the manner in which Binny bowled in the first innings and Kohli's preference for extra options with the ball, the latter option is extremely unlikely.
It was that brilliant one-handed catch from Rahul to dismiss Angelo Mathews off the first ball that set the tone for Day 5 for India and eventually helped India run through Sri Lanka. Rahul, who has kept wickets for Karnataka until the U-19s, was pretty decent keeping to the spinners as well, which would have further encouraged Kohli and Shastri.
However, playing a stand-in wicketkeeper for the entire match is fraught with risk, even if the other option is someone who will make his debut in Test cricket.
Ojha is far from the proven article, having not made enough of an impression when given an opportunity to play for India. On top of that, Test cricket is a completely different (read more difficult) ball game compared to ODIs and T20Is, and question marks will remain on how Ojha will react to the pressure cooker situations in Test cricket, be that with the bat or, more crucially, behind the wickets.
But then, selecting Karun Nair will also mean playing a pure batsman, who cannot really contribute with the ball, making an appearance for the first time in international cricket. That is also fraught with risks -- unless, of course, Shastri believes Nair is the more aggressive batsman and someone who can take the game by the scruff of the neck (and some more of those clichés), because those players have been given preference over more solid batsmen in this new "era" of Indian Test cricket.
So, the obvious choice should be Ojha replacing Wriddhiman Saha in a straight swap with Pujara taking the place of Murali Vijay at the top of the order, with Nair, barring a late injury, having to watch from the bench.
India expected playing XI: KL Rahul, Cheteshwar Pujara, Ajinkya Rahane, Virat Kohli (capt), Rohit Sharma, Naman Ojha, Stuart Binny, R Ashwin, Amit Mishra, Ishant Sharma, Umesh Yadav.