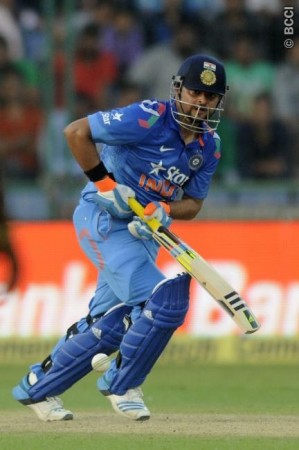 India vs Sri Lanka – two familiar teams who have faced each other time and again over the year -- face-off once more on Indian shores thanks to that infamous West Indies pullout.
While the India vs Sri Lanka battle has been worn down over the years, such was and has been the frequency of the clashes between the two neighbours, there will be bit more of a context to this five-match ODI series.
After all, the ICC Cricket World Cup is just a little over three months away, and both teams will want to iron out those chinks heading into the ultimate 50-over tournament.
Neither team will be in full strength, though, with India resting MS Dhoni for the first three ODIs, while some big names are missing from the Sri Lanka lineup as well.
In a way it helps that some of the players who will definitely be in their respective squads will not be present in this series, as it gives both teams the chance to test their bench strength, and with it make the decision of selecting the finals squad for the World Cup.
"Not that we were reluctant to play this series. It's not the ideal kind of preparation for a tour to India," that statement from Angelo Mathews pretty much summed up the players' feeling towards the series after the Sri Lankan Cricket Board agreed to help the BCCI out following the early pullout from the West Indies.
"India is a tough place to play cricket in and you need preparation to play India in India, especially. We had been focusing a lot on our fitness over the last one and half months and suddenly this tour came up, so we had to take it.
"We'll take this as an opportunity to get our combinations right for the World Cup."
Those combinations also need to be worked out for India, with some of the batsmen from the India A team certainly making a case for inclusion with some brilliant batting.
Unmukt Chand, Manish Pandey and Rohit Sharma flayed the Sri Lankan bowlers, who are without their two most experienced campaigners in Lasith Malinga and Rangana Herath for this OSI series, in a warm-up game on Thursday in Mumbai.
Rohit's form will certainly be pleasing after the right-hander smashed a 111-ball 142 on his return from a finger injury, which kept him out of the West Indies series, and forced him to leave early from the England tour.
"His match fitness had to be assessed and that was the reason the selectors had roped him in [for the practice game]," said Sanjay Bangar, India's assistant coach, when asked about Rohit. "He gave a fantastic account of himself
"He has been practising really hard over the last 10 days at BKC. And he showed total recovery from that injury while batting and showed no discomfort at all. He fielded throughout the 50 overs and those are good signs for the Indian team."
Rohit has not been included in the first three ODIs against Sri Lanka, but after making a statement of intent with this knock, he will certainly be in the reckoning for the final two one-day internationals of this five-match ODI series.
Get the 1st ODI Live Streaming Information HERE
India vs Sri Lanka ODI Series Schedule: Sunday, 2 November: 1st ODI (1.30 pm IST, 8 am GMT, 4 am ET) at Barabati Stadium, Cuttack.
Thursday, 6 November: 2nd ODI (1.30 pm IST, 8 am GMT, 4 am ET) at Sardar Patel Stadium, Ahmedabad.
Sunday, 9 November: 3rd ODI (1.30 pm IST, 8 am GMT, 4 am ET) at Rajiv Gandhi International Cricket Stadium, Hyderabad.
Thursday, 13 November: 4th ODI (1.30 pm IST, 8 am GMT, 4 am ET) at Eden Gardens, Kolkata.
Sunday, 16 November: 5th ODI (1.30 pm IST, 8 am GMT, 4 am ET) at JSCA International Stadium, Ranchi.