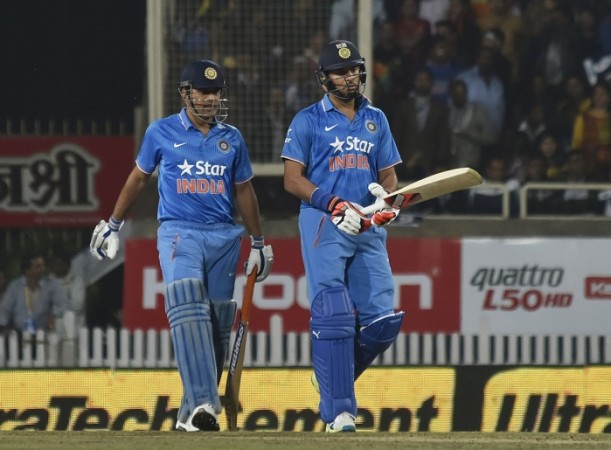 It is amazing how a player's mood differs based on the result. When their team has crashed to heavy defeat, the post-match press conference is almost suffered through, seen as an obligation. However, that mood changes considerably when the team has won a match, and that too convincingly.
MS Dhoni was in one of those good moods after seeing his India team comprehensively beat Sri Lanka by 69 runs in the 2nd T20, a win which ensures the series will go into the final game in Visakhapatnam on Sunday with all to play for.
Speaking about Yuvraj Singh, his own batting and the need to experiment ahead of the World T20, Dhoni was all smiles as he batted the questions that came raining in from the media.
Amidst all the joviality, however, there were a few potent questions in there as well, with one of them being Yuvraj. One of the slight worries for India, as the World T20 gets ever closer is that Yuvraj is still not quite there at his best.
In most of the T20s since his return, the left-hander has hardly got a hit in the middle, and when he has, he has had a mixed outing. Giving the veteran as many opportunities as possible will be key, ahead of the T20 World Cup, and while Dhoni understands the importance of doing just that, he also admitted it is difficult, considering the top four of the Indian batting lineup is as close to set in stone as they come in this format.
"When a match starts, Yuvi is slotted in at No 5," Dhoni was quoted as saying by ESPNCricinfo. "It is difficult to get him to bat at a higher position than that. Because the top four -- the openers, No. 3 is Virat Kohli, No. 4 is Suresh Raina. If you look at these four, their record in India and overseas is extraordinary. It becomes slightly difficult.
"Yes Yuvraj Singh is back in the team. We wish to give him more batting. But at the same time, since I have played with Yuvi a lot, I know it is difficult for him to go and straightaway start hitting in the 17th or 18th over. He's like a proper batsman who can hit.
"Okay, he can start early. Whenever he bats in the slog, he has found it difficult. We'll see how it goes. I will try to give him more opportunities in the upcoming games. But again we want to win games. That will also be our priority. We will see how it goes."
Giving Yuvraj Singh an opportunity at No.3 in the final match of the series against Sri Lanka might not be a bad idea, considering Kohli is rested for this series. Ajinkya Rahane has not quite convinced in that slot in the last two games – and the right-hander is unlikely to get too many games in the World T20, unless there is an injury -- and what Yuvraj really needs is time out in the middle so that ball starts hitting the meat of the bat more often than not.
One of the sending-him-up-the-order decisions that did work on Friday, though, was that of Hardik Pandya, who was sent in ahead of both Dhoni and Yuvraj. Pandya, unlike the other two, is someone who can go smash-bang from ball one, and he showed his hitting prowess, striking a 12-ball 27 to help propel India to a total nearing 200.
"It was an opportunity for him to see international cricket closely," Dhoni said. "This is what he is known for. He can go in and play the big shots straightaway.
"So, in the coming games whenever we give some opportunity, we would like to give every player some kind of batting so that going into the T20 World Cup, everyone has some kind of exposure when it comes to batting."
Dhoni signed off with a bit of that sense of humour coming out. Asked why that patented helicopter shot of his almost never comes out of the locker nowadays, the India captain made a valid point that he hasn't been getting the balls off which he can use those forearms of his to good use.
"If they bowl me bouncers, the only way I can play the helicopter shot is if I stand on a stool," Dhoni said with a smile.