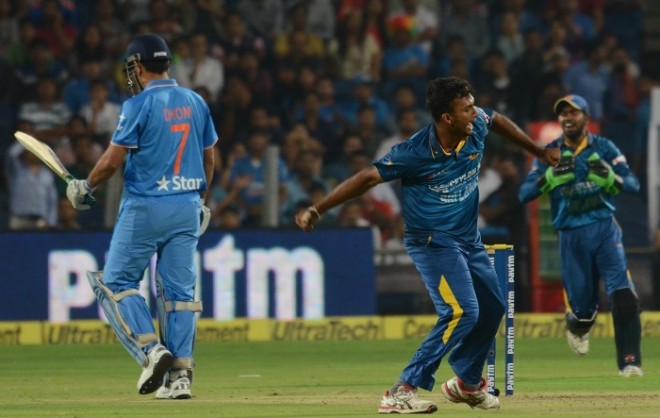 Who would have thought that after handing Australia a 3-0 drubbing Down Under, India would collapse like a house of cards in the first T20 against Sri Lanka at the MCA Stadium in Pune on Tuesday?
India were handed a five-wicket defeat by an inexperienced Sri Lankan side in the 1st T20 of the three-match series. The wicket in Pune was the talking point, with seamers feasting on the batsmen.
MS Dhoni & co. played some reckless shots despite being aware of the condition of the wicket, and they were bundled out for a meagre total of 101.
The captain blamed the batsmen for playing rash shots on a wicket that aided the seamers right from the word go. The Sri Lanka pacers did not do anything extraordinary, they just bowled straight and in good areas.
"This was not a 160 wicket. This was more of a 135-140 kind of wicket because there was some help for the fast bowlers. Our shot selection should have been better," Dhoni was quoted as saying by Cricketcountry.
The 34-year-old captain also blamed the pitch to a certain extent. Dhoni said that the pitch was an English wicket, with the fact that it was not rolled properly also not helping matters. Sunil Gavaskar had said while commentating on Tuesday during the 1st T20, it seems India are yet to come out of their Australian wicket mindset.
"The wicket was completely different to what we have been playing in the last one month [in Australia]. It was more like an English wicket. There was spongy bounce, and variable pace," Dhoni added.
"The wicket was also not rolled properly. Looking at the wicket, we should not have played a few big shots that we played."
This loss should be an eye-opener for the No.1 T20 side in the world, ahead of the two big-ticket tournaments -- Asia Cup T20 and ICC World T20. India hardly made any changes to their squad from the one that played in Australia. Despite that, they were outclassed by a young and inexperienced Sri Lanka team.
India will now look to bounce back when they play Sri Lanka in the second T20 of the series in Dhoni's hometown Ranchi on Friday.