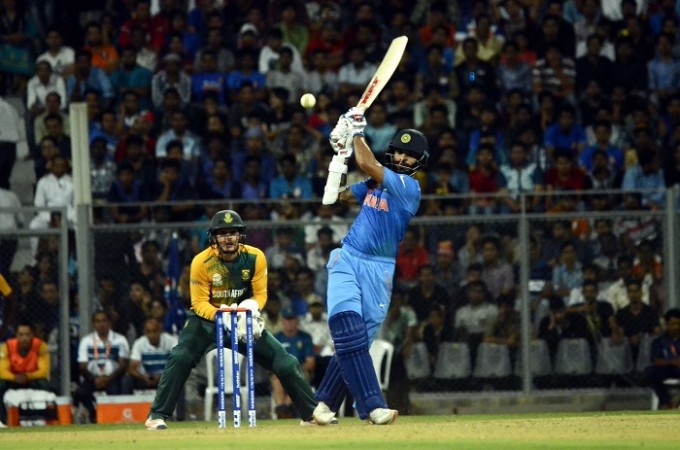 India played their second warm-up game Saturday against South Africa at the Wankhede Stadium in Mumbai, ahead of the start of the main stage of the ICC World T20 2016. South Africa edged past an upbeat India by just 4 runs, handing the hosts their second defeat in the shortest format of the game in 2016.
South Africa came out to bat first and posted a huge total of 196 runs at the end of their allotted 20 overs. Quinton De Kock and JP Duminy powered the Proteas to a challenging total.
India lost two early wickets in the form of Rohit Sharma and Virat Kohli, and were struggling at 16 for the loss of two wickets in the third over during their run chase.
Shikhar Dhawan and Suresh Raina added 94 runs in tandem and gave India a chance to actually seal an outstanding victory.
Dhawan played a brilliant knock of 73 runs from just 53 balls and was the best batsman for the hosts against South Africa.
Yuvraj Singh and captain MS Dhoni were at the crease and had to get 55 runs from the last 24 balls. The duo was hitting the ball well and came so close to a fantastic victory. Dhoni was on strike for the last ball, and he needed 5 runs from it. He missed out on it and ended up getting just one run from that delivery off Chris Morris.
A hard-fought defeat is not really hard to digest as the Indian middle-order played really well Saturday against South Africa.
Dhawan, whose innings was crucial against the Proteas, believes India have got depth in batting as well as bowling. This will help them succeed in the ICC World T20 2016.
"We have got depth in our side in both batting and bowling. We also have got a very good all-rounder in Hardik (Pandya) who is performing. He just came in the side and have been performing from the word go. That is a big positive and we got experience now in our side," Dhawan was quoted as saying by PTI.
Dhawan was happy with everyone's effort and that is what matters at the end of the day. He also added that their current form and mix of players makes them the best in the world.
"It does not happen that the best finishers will always guarantee you to complete the task. Everyone gave their best and that's what matters. We were chasing such a big total, and wickets fell early on, after that there was a good partnership and came so close," Dhawan said.
"It was only a matter of two runs. We learnt a lot from this game. What we have learnt today, will be implemented in the future.
"Yuvi pa's (Yuvraj Singh) presence makes huge difference for all youngsters and of course their experience comes in handy. Because of all these reasons, I feel why everyone is rating us the best. We guys have been winning consistently and from those wins we are getting a lot of confidence and we are building our confidence game after game."
India will Tuesday play their first game of the ICC World T20 2016 against New Zealand in Nagpur and Dhawan is confident that his side is ready for the challenge.
"We have earlier played against them. We know the strengths of their particular batsman and bowler. We are ready for the game," Dhawan said.
Watch the full highlights of India vs South Africa warm-up game here.