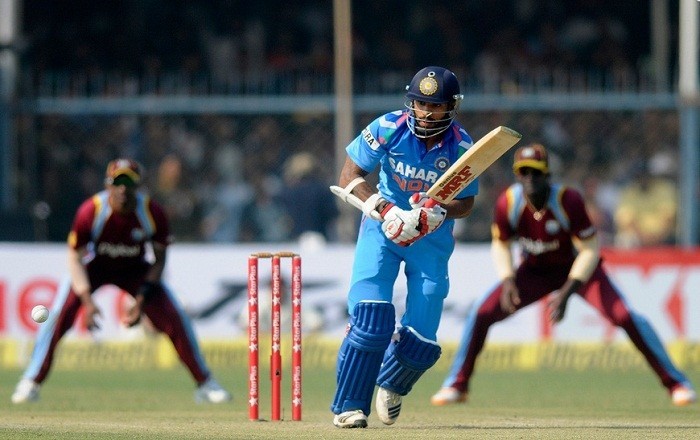 In the third one-day international against the West Indies, India opener Shikhar Dhawan was a tour de force, an unstoppable machine, that cannot seem to stop playing one delectable shot after another.
Dhawan in full flow, which is almost every single time he wields the willow at the moment, is a sight to behold and then some, and on Wednesday afternoon at the Green Park Stadium in Kanpur, every eye was on the blade of the left-hander, carving, gliding, driving and sashaying the Windies bowlers to any part of the ground that he wanted.
The 119 from 95 deliveries which Dhawan scored to guide India to a 2-1 series win over the West Indies was his fifth ton of the year, also making him the quickest to reach five centuries in just 28 innings.
The soon-to-be 28-year-old is revelling in his form at the moment and has no plans on stopping anytime soon, with the upcoming South Africa the next target in his sights.
"I am thankful for being blessed with such a beautiful year and I am really happy that I have formed the habit of scoring centuries," the left-hander said. "It's a good habit and I want to continue with that.
"It's good to end on a high note and this century will do a lot for my confidence when I go to South Africa.
"It also adds to my confidence that the last time I was in South Africa (playing for India A) I scored my highest List A score there (248 against South Africa A). It is assuring that I have done well recently on the South African pitches. I am really looking forward to the tour."
The South Africa series will indeed test India, both in the ODIs, and obviously the Tests. How the likes of Dhawan, Rohit Sharma and Virat Kohli, all enjoying a stunning 2013, will come out of that tour might just define where Indian cricket goes post the era of the big four - Sachin Tendulkar, Rahul Dravid, Sourav Ganguly and VVS Laxman.
One this is certain, however - Dhawan is not someone that cowers under pressure; on the contrary, he is someone that looks pressure in the eye, cracks a smile and brings out that bat to do all the talking.
It is an attitude which will stand him in good stead in South Africa. "This was a big win before heading to South Africa," he added on the WI series victory. "We have been winning tournaments consistently this year and we want to stretch that winning streak for as long as we can.
"My next goal is to score a few centuries in South Africa and help India win there."