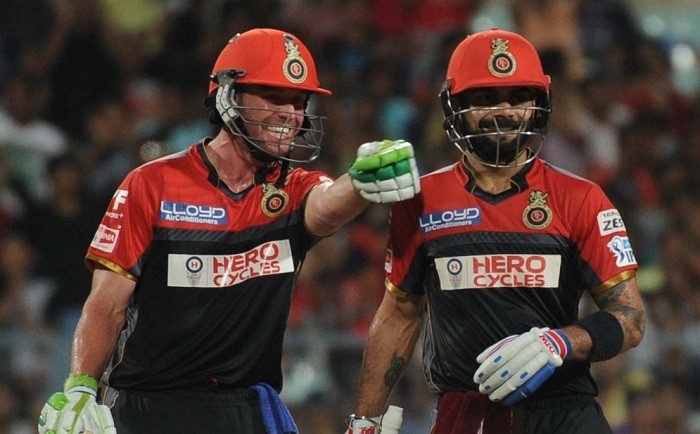 AB de Villiers and Virat Kohli share a special friendship. They have mutual respect for each other and are among the best batsmen in the world. Now, they will come face to face from next month as India and South Africa get ready for a three-Test battle starting on January 5, 2018 in Cape Town.
De Villiers and Kohli, together, have destroyed many bowing attacks while plying their trade for Royal Challengers Bangalore (RCB) in the Indian Premier League (IPL). The South African superstar knows how tough it is going to be when Kohli arrives in their country next month.
Also read: De Villiers 'surprised' by Kohli's wedding
The former Proteas skipper is returning to red ball cricket for the first time since January 2016 and is excited to play Tests again. He will be in action from December 26 as South Africa host Zimbabwe in the first-ever four-day Test in Port Elizabeth. De Villiers had not played Test cricket due to injury and also opted out of the format later.
"I pride myself in the fact that I can adapt to certain conditions and formats. I have worked hard on my game over the last six months. I started in July facing red balls at the University of Pretoria, getting some technical stuff sorted out. I feel more ready than ever to take it on," the 33-year-old told reporters about the Boxing Day Test starting on Tuesday.
When he was asked about the India series, De Villiers praised Kohli and admitted it will be a "great challenge".
"It is huge. I think they have played a lot better in our conditions over the last few series that we have played here, compared to the 90s and so forth. They are team that is young and determined. It will be a great challenge for us against them," De Villiers, who has played 106 Tests, said.
On Kohli, he commented, "We know all about Virat Kohli, how determined he is as a captain. He will definitely come here trying to win and to make history. We are well aware of that. We will prepare accordingly and hopefully play some good cricket in the summer."
India have never won a Test series in South Africa. After the Tests, Kohli-led team will play six ODIs and three T20Is against the Proteas.