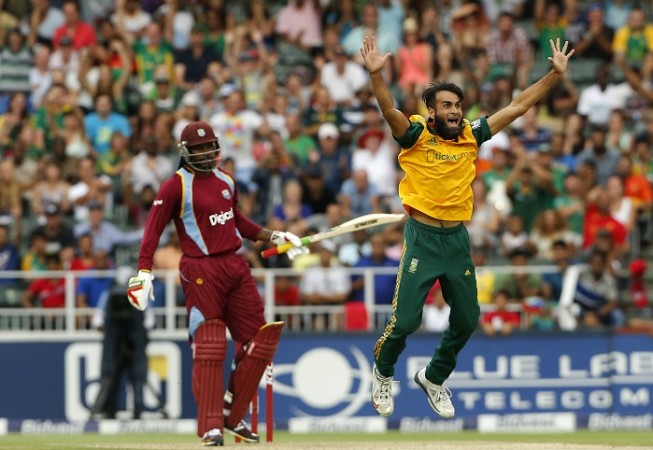 Indian batsmen, who are said to be masters of playing spin bowling, are set for an interesting encounter against South African spinner, Imran Tahir in the upcoming series comprising 3T20s, 5 ODIs and 4 Test matches. The first match, a T20 game, will be played on 2 October.
Pitches in India have always assisted spinners, as a result of which South Africa have included three spinners in the squad, with Tahir spearheading the spin attack. Tahir has been phenomenal in all formats of the game for South Africa. Hence, former cricketers including Sachin Tendulkar have spoken about Imran Tahir's threat in the series.
However, former India captain, Mohammed Azharuddin, believes that though Tahir is a good bowler, he should not be allowed to dominate.
"I gather that people are afraid of Imran. He is a good bowler, very accurate and intelligent, but he is not Shane Warne. We should not allow him to dominate," Mid Day quoted the former captain as saying.
Tahir might be pumped up for a huge showing against India, especially after the men in blue were below par against the prolific Sri Lankan spinners, who troubled the Indian batsmen. But that does not mean Indian players are bad players of spin bowling.
Virat Kohli, MS Dhoni and Shikhar Dhawan can attack the spinners and upset their rhythm.
"We did not do well against spin bowling against Sri Lanka and critics feel we have forgotten to bat against spinners. Actually, we went into a shell in the first Test at Galle," said Azharuddin.
Spinners always have their tails up when they are given a chance to dominate. Once Tahir is allowed to get into his rhythm, he can take advantage of the situation, which can lead the batsmen to hit the panic button, which Azharuddin does not want.
"We should not allow Imran to settle down from the first ball. We should not panic while facing him," added Azhar.
The series is expected to be a heavyweight contest between India and South Africa, which could go either way. Azharuddin believes that the Indian team should be able to win the Test series as well.
"India is playing the first Test at Mohali where in the early part of the season I do not see the ball turning much. It is up to the Indian team management to decide their combination. Our strength is in the batting department. If our batsmen deliver, we will be in the driver's seat," said Azharuddin.